BY DAVID PERRYMAN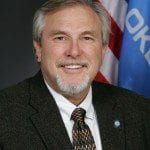 We have all heard the common saying, "An apple a day will keep the doctor away." What most of us don't know is that it devolved from the 19thCentury Welsh proverb, "Eat an apple on going to bed, and you'll keep the doctor from earning his bread."
Both the original proverb and its more modern transliteration, touted the benefits of a healthy diet including fresh fruits and vegetables. But a more literal interpretation of the original version would indicate that physicians, pharmacists and other health care providers could be negatively impacted when trying to earn a living in a healthy society.
In Oklahoma, we need not worry about that. There is plenty of work to do. Our urgent consideration should be to address the root causes of our dire circumstances. Whether we first consider the rates by which Oklahomans are covered by some form of insurance or rates which Oklahoma citizens partake of healthy diets and exercise or rates of immunization, or availability of health care, we find that Oklahoma ranks near the bottom both in virtually all categories.
For instance, the Physician Access Index [PAI] published by Merrit Hawkins, nationally recognized experts in the placement of health care workers, examined, on a state-by-state basis, 33 benchmarks and metrics that influence and determine patient access to medical services, including demographic, economic, health insurance coverage, physician, nurse practitioner and physician assistant workforce factors.
The latest edition of that index shows that Oklahoma's overall score ranks dead last among all states.
However, do all these bad numbers, low rankings and unhealthy outcomes really matter? For instance, it is difficult to tell by the voting pattern of most Oklahomans that over the past 26 years the life expectancy of Oklahomans has dropped to the point that our state's life expectancy is shorter than any other state in the country except Kentucky, according to an American Medical Association Report issued in April 2018.
It is appalling that Oklahoma's elected officials continue to ignore reality and avoid addressing problems such as high uninsured rates; low reimbursement rates; discriminatory pharmaceutical prices and scores of other factors that need their attention.
For instance, former Gov. Mary Fallin's constant refusal to allow the Medicaid program to be made available to working Oklahomans whose employers do not provide health insurance and whose income is not sufficient to cover the cost of health insurance costs. This refusal has negatively affected Oklahoma hospitals, clinics, ambulance services and health care providers across the board.
In similar fashion, Oklahoma's elected state Insurance Commissioner undermined the benefits of the Affordable Care Act by failing to properly regulate the rates and coverages of health insurance carriers.
Oklahoma voters allow elected officials to take campaign contributions, defer control of their department to their donors and abdicate their duty to protect citizens.
Oklahoma cannot expect healthy citizens if insurance and pharmaceutical companies continue to run the show with a focus solely on net profit and not on health outcomes. Our state's frail system of health care providers will never be strong enough to improve health outcomes so long as the delivery of quality of health care is undermined.
In fall 2017 and spring 2018 when Oklahoma needed three sessions to address 10 years of educational neglect, Arkansas used three days to adopt legislation preventing predatory and discriminatory pharmaceutical pricing. Arkansas was looking out for its citizens and communities by allowing small pharmacies to receive fair reimbursement rates. Oklahoma needs to do the same.
I have filed a bill patterned after the Arkansas legislation to prevent drug stores from being harmed by corporate prescription benefit managers. It is a step that needs to be taken.
Insurance Companies and PBM's should not favor corporate pharmacies and thereby prevent rural physicians and druggists from "earning their bread."
– Chickasha's David Perryman represents District 56 in the Oklahoma House and serves as minority floor leader