BY JOE DORMAN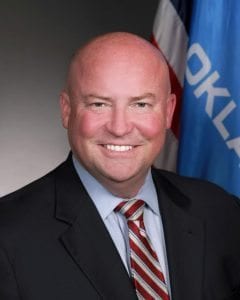 The Oklahoma Institute for Child Advocacy is pleased to partner with several organizations to fulfill the mission of OK Foster Wishes this year. This program helps fill the wish lists submitted by children in foster care under the Department of Human Services and ultimately delivers over 6,000 holiday gifts.
We have been very pleased to have several generous organizations step up to help us complete this mission, including Feed the Children, Bob Moore Subaru, and the Oklahoma Employees Credit Union. This, of course, is in addition to the many individuals and businesses that have requested wish lists or made cash donations.
If you would like to learn more about this program and support our gift drive, please go to okfosterwishes.org and request a wish list. If possible, ask if your place of work would like to take on one or more lists to help fulfill this program.
Here are our key dates:
– Last day to request lists: Dec. 4
– Last day to drop your completed list off to a site: Dec. 8
– Last day to donate new, unwrapped toys to our warehouse in Oklahoma City: Dec. 20
– Last day to make a monetary donation online at okfosterwishes.org  so we can complete a list: Dec. 24
We are also asking people to consider becoming a foster parent during this time of year. Oklahoma Fosters [online at OkFosters.org] is an initiative "designed to provide a placement resource that is committed to working with the child's birth family towards the goal of reunification; and, if reunification fails, is committed to raising/parenting the child."
This program is committed to maintaining a permanent connection for the child, so the foster family not only provides care for the child, but also acts as a mentor role to the child's birth family.
This approach to foster care is meant to best serve the child's entire family. The foster families must meet both foster and adoptive program criteria; come from the same community as the child; and be willing to accept and agree to visitation and other types of contact with siblings, extended family and other important people in the child's life.
An OK Foster family is a family who may be asked to:
– Provide temporary care, love, and nurturance to the child and serve as a mentor whose actively helping the parent improve their ability to safely care for their children;
– Serve as the legal guardian for the child while maintaining the child's connection to kin, culture, and community;
– Adopt the child while maintaining the child's connection to kin, culture and community;
– Be willing to care for children through foster care, legal guardianship, or adoption;
– Provide a temporary home for children needing out of home care due to abuse or neglect. Foster families provide a safe and nurturing home and are committed to working with birth families to reunite children with parents.
– Adopt and provide a permanent placement option for children who have been in foster care. Children are legally free for adoption only after the court has terminated the parental rights.
– Adopt children who range in age from 0 to 21 and frequently are part of a sibling group that must remain together. More than half of the children in care are children of color. Some of these children have physical, mental or emotional disabilities ranging from mild to severe.
If you are interested in becoming a foster or adoptive parent, please use the Oklahoma Department of Human Services Foster and Adoption Inquiry form at http://www.okdhs.org/services/adopt/ or call 800.376.9729.
– Former state Rep. Joe Dorman is CEO of the Oklahoma Institute for Child Advocacy