BY SHARON MARTIN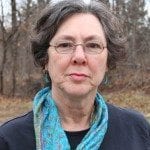 A well-funded education system is good for the state's economy. The results aren't immediate; it takes time to educate, but if one is willing to stick around for the results, one will see that the better educated a state's population, the higher the standard of living. The more citizens earn, the more tax revenue the state gets. Tax dollars are returned to the taxpayers in the form of needed services. Win, win, win.
The opposite is also true, and I shudder to think what Oklahoma will look like when the results of recent education decisions, from funding cuts to a loosening of standards, become clear.
What kind of education do you want for your child? Do you want your sons and daughters to think critically, or is it enough that they can spit out memorized answers? Do you want readers and leaders, or will followers of the latest fad do? Do you want teachers who respect student learning and students who respect teachers or is the current climate of disrespect good enough for you?
Our current leadership isn't against education, they just don't want to pay for it. Why should they allot taxes for public education when political donors can invest in education businesses for profit?
Never mind that a private system doesn't provide for all citizens. And never mind that we pay for not educating with higher costs for corrections, social services, health care, and a smaller tax base.
Oklahoma public education is being bled to death. Add another test. The testing company gets paid. Where does the money come from? Just lay off another teacher. Class size doesn't matter. Gut the libraries and lay off librarians. Kill CareerTech.
To attend Tech, students must maintain grades, keep up attendance, and behave. In return, they get skills that will apply to the current job market – in nursing, technology, engineering, and service trades. If the student does his part, he gets a senior scholarship to attend an additional year.
Our state leaders prefer that students get loans and pay for that stellar education. So what if fewer students are educated? So what if student loans impact spending and quality of life after graduation? So what?
Private education companies are making money, and that's what matters. Household economies and the standard of living be damned.
By the time we realize the results of cuts and privatization, the politicians who put the system in place will be out of office. Some of them will be earning huge salaries from the private companies their ill-advised policies have endowed.
– Sharon Martin lives in Oilton, OK and is a regular contributor to The Oklahoma Observer