BY GARY EDMONDSON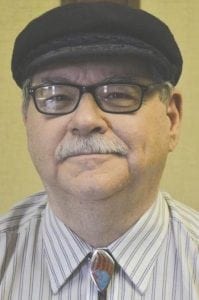 House committees have subpoena power.
Obscured in the pasting Oklahoma Democrats suffered statewide was the overall good news from the Nov. 6 elections. Of course, we would have liked to have done better – and you-uns would have prospered if we had.
Kendra Horn scored an amazing win in Oklahoma's 5thCongressional District. Just this year, Forbes designated Oklahoma City as the second most conservative city in the nation. Yet, it was the Oklahoma City vote that gave her the victory.
Predictors have failed before. Sometimes voters do pay attention to what their representatives are representing.
Peeking across state lines, we see more hope. Arkansas and Missouri both approved ballot measures to increase the minimum wage. Vote-suppressor extraordinaire Kris Kobach lost his race for Kansas governor. Colorado elected an openly gay man as governor. New Mexico returned its top spot to the Blues. And while Beto O'Rourke failed in his effort to unseat Ted Cruz, his coattails swept a lot of Democrats to victory in Texas.
Nationwide, the Democrats won the House. For starters, that means that GOP plans to gut Medicare, Social Security and Medicaid in order to pay for its tax giveaway to the wealthy will have no traction.
Also, the House Science Committee will be chaired by someone who actually believes in the scientific method.
Of course, Democrats will now chair all House committees. House committees have subpoena power.
A post-election headline read: "Trump says he won't turn over his tax returns. It's not up to him anymore. Congress has the authority to get anyone's returns from the IRS."
Sen. Jon Tester won re-election in Montana despite repeated campaign visits from the president and his philandering son. Tester is someone I'd like to hear more from over the next two years, as is Sen. Martin Heinrich of New Mexico, who also vanquished a challenger.
Just as I don't want to see the state party become a Turnpike Party, I don't want our national party to become a Coastal Party.
Dana Rohrabacher – "Putin's favorite congressman" – was defeated in Orange County, CA, a bastion of Republican strength.
Wisconsin Gov. Scott Walker, the enemy of working people, was fired.
Forty-five million more Americans will be living in Democratic-run states next year, where governmental emphasis will be placed on helping people, not corporations.
On the equal rights front, a lesbian Native American was elected to Congress from Kansas. Two Muslim women were elected to Congress. Two other Native American women won elections, one to Congress and one as lieutenant governor.
Their elections are significant. But considering that Oklahoma boasts First Nation representatives such as Tom Cole, Markwayne Mullins and now Kevin Stitt, let's wait to see what our new electees stand for before starting the party.
The Sierra Club reported that six of its "Fossil Fool" targets were defeated as Americans stood strong to defend the only environment we have. Sixteen more of its Victory Corps-backed candidates were elected.
House committees have subpoena power!
– Duncan resident Gary Edmondson is chair of the Stephens County Democratic Party