BY DAVID PERRYMAN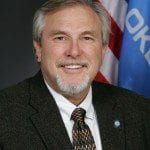 What do Louisa Mae Alcott's Little Men, Willie Wonka and the Chocolate Factory, David Bowie in Labrynth, and Walt Disney's version of Alice in Wonderlandall have in common? They all contain a reference to the age-old children's game, "Button, Button, who's got the Button? Over the past 150 years, very few of us made it past elementary school without confronting the task of attempting to locate that evasive, hidden button.
Over the past decade, Oklahoma's education budget has given Button, Button a whole new perspective. With daily attendance being a primary factor in the "game" of school funding, the concept of whether a student is "present" or "absent" can literally shift millions of education dollars from some schools to others. With that much money in the balance, it is inevitable that rules are stretched, twisted and sometimes broken.
For brick and mortar schools, the concept of being present or absent at school has remained constant for 100 years or more. At the beginning of a school day and at every class period throughout the day, a student is either present or absent or tardy. With the advent of "virtual" schools facts get a little fuzzy.
According to a 2016 Oklahoma Watch article by Jennifer Palmer, "With no seats to fill and no roll to call, 'attendance' in virtual education takes on a different meaning." In fact Palmer reported that in the previous year, every single one of the state's virtual charter schools reported near perfect attendance with two – including the state's largest – reporting 100% attendance for the entire school … for the entire year!
Now we're not talking a drop in the bucket. Last year, virtual charter schools reported a statewide combined K-12 enrollment of nearly 12,000 students.
The natural question is, why should Oklahomans care? Fact is, so long as funding of our public schools is based at least in part on daily attendance and so long as virtual charter schools are allowed to establish their own method of counting attendance, schools that are able to use it for their benefit will – all to the financial detriment of those public brick and mortar schools who will consequently receive a smaller piece of the same funding pie.
While proponents like the Epic Virtual Charter School Superintendent have been quoted as saying, "When they're enrolled in an online course, they are considered in attendance; we just follow the law," holding virtual charter schools accountable by changing the law may be more difficult than it would seem. In November 2018, Palmer, in another Oklahoma Watch article, reported that supporters of the state's largest virtual charter school had "ramped up" political contributions to elected officials to the tune of at least $145,000, arguably to keep in place status quo policies that harm "brick and mortar schools" across the state.
For instance, the founders of Epic made donations that included "a combined $23,800 for state Superintendent Joy Hofmeister and more than $11,000 to state Attorney General Mike Hunter." Other recipients included Gov. Kevin Stitt and more than 50 legislative candidates.
This session, Sen. Ron Sharp, a former teacher from Shawnee, has filed SB 56 in a push for more transparency in the truth behind attendance numbers. The bill would require virtual charters to submit attendance records of enrolled students to the student's resident district. Sen. Sharp hopes to eliminate the current situation where hundreds of kids are falling through the system and no one knows where they are.
How far his bill will go remains to be seen. Much depends on whether virtual charter schools will be made accountable regarding attendance numbers or if their generous and well placed political contributions will allow them to perpetuate a costly and wasteful version of Button, Button, Who's Got the Button?
–Chickasha's David Perryman represents District 56 in the Oklahoma House and serves as minority floor leader