BY DAVID PERRYMAN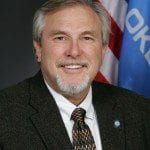 According to the Cecil G. Sheps Center for Health Services Research, since 2010, 89 rural hospitals across the country have closed leaving communities without healthcare. The study shows that five of those facilities are in Oklahoma communities like Frederick, Pawnee and Eufaula and mean that in rural Oklahoma there are 204 fewer hospital beds to treat patients who may not have the means to travel to the state's urban centers for medical care.
That list is only the tip of the iceberg. Most every rural hospital in our state is operating on a shoestring budget. Many are teetering on bankruptcy and several – like those in Sayre, Atoka, Antlers, Drumright, Ceiling, Fairfax, Prague and Stigler – have either been declared insolvent, been placed in receivership or are currently operating under the supervision of a bankruptcy trustee.
The most recent closure occurred in Pauls Valley where 64 more beds were lost and area residents have to be transported to Purcell to the north, Sulphur to the south, Ada to the east or Chickasha to the west, assuming there is a functioning ambulance service available to make the trip.
There are a number of reasons for the current hospital and ambulance financial crisis. Insurance companies intercede with greater frequency and classify many more medical procedures to be outpatient procedures or otherwise substantially shorten hospital stays.
Decreases in the rates paid to hospitals by Medicaid and Medicare also impacts the facility's bottom line.
Perhaps the most damaging issue faced by hospitals [and ambulance providers] arise out of what is called "Uncompensated Care." In short, uncompensated care represents those services that are provided to a patient and for which the provider is not paid.
The primary reason that hospitals face the expense of uncompensated care is because a Reagan-era federal law requires that persons who are in need of treatment must be cared for without regard to whether they have insurance and without regard to their ability to pay.
Since the law applies equally across the entire country, one would think that hospital closures would be located consistently from coast to coast. The fact is that, according to a study published in the January 2018 edition of the journal Health Affairs, hospitals located in states that accepted federal dollars to pay Medicaid expenses for low income workers were six times lesslikely to close than in states like Oklahoma where federal funds were refused.
Put another way, 90% of the nation's hospitals that have closed since 2010 were located in states that had refused to expand Medicaid at the time that hospital closed.
The fact is that Gov. Mary Fallin is one of only 18 governors who have refused to allow their states to accept those federal funds. The other 17, like Oklahoma, are primarily in the southern U.S.
The 32 states that did accept federal funds for Medicaid expansion have seen the uninsured rate drop by as much as 50%. Cutting the number of patients who cannot afford to pay for medical services by half is big in any state.
Other benefits include financially healthy ambulance services and medical related businesses that can only operate in the presence of a functioning hospital. Likewise, when more citizens are insured, the community enjoys healthier outcomes.
But the most exciting part of Medicaid expansion occurs when a community's economic development director can showcase the community to a potential business prospect and point with pride to a vibrant medical facility that can provide quality health care services to the CEO, his employees and to their families.
– Chickasha's David Perryman serves District 56 in the Oklahoma Houseand is House Democratic Floor Leader