BY SHARON MARTIN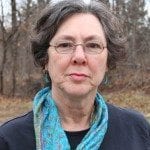 A recent headline said that 90% of Americans don't like to cook. Another said that only 27% of Americans cook every day. What either one of them could have added, but didn't, is that most Americans are too tired at the end of their day and too rushed at the beginning to cook.
A friend of mine, a working woman, took offense when I pointed to a reason for these numbers: no one is home to do the homemaking.
My friend grew up in the days when women were denied entry to many positions simply because of their gender. So, to be clear, I'm not advocating that women stay home and manage households. What I'm saying is, wouldn't it be nice if one income would support a household so that homemaking for persons of any gender is an option and not a second job?
Income has not kept up with productivity. Two-income families struggle to get by. The food industry steps in to fill the slack.
The food industry doesn't care for your health and nutrition like your mom, dad, or big brother might. Regardless of how they frame their advertising, food companies must make money just as you must eat.
Stagnant wages aren't really stagnant. In relation to prices, wages have fallen. Healthcare prices began their rocket ride when HMOs were allowed to set up as profit makers. When people are stressed about money, priced out of the healthcare market, and held hostage to corporate food producers, it isn't just their health that suffers. This is a formula for economic woe.
The people in power don't really get it. They can afford to shop at organic food stores. There is someone in the household who has time to shop at the farmers' market. They are educated enough to read food labels. They are healthy because they can afford preventive healthcare.
Healthy, well-fed children do better in school.
Healthy, well-fed adults with an education do better in the job market.
Healthy, well-fed employees pay into the system.
When will we decide that everyone's health and education matters?
When will preventive care be recognized as a human right? When will education include health and nutrition? When will doctors make nutrition and exercise a key part of their treatment advice for patients?
When will wages catch up to productivity? The answer to that last question is, when voters demand it.
What are we waiting for?
– Sharon Martin lives in Oilton, OK and is a regular contributor to The Oklahoma Observer. Her latest book, Not A Prodigal, is available through Barnes and Noble. Her recent children's book, Froggy Bottom Blues, can be purchased in hardcover or paperback from Doodle and Peck Publishing and in paperback from Amazon.