BY SHARON MARTIN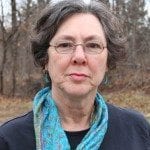 A few years ago I saw a farmer friend plow up a good portion of his organic crops because his neighbor's insecticide sprayed over his field. His crops were his livelihood, and he had no recourse when they were destroyed. It is not against the law to contaminate a neighboring farmer's field.
However … if your field is contaminated by pollen from patented seeds, you are breaking the law if you harvest and sell the crop. The sheer cheekiness takes your breath away, doesn't it?
Jim Gerritsen, president of the Organic Seed Growers and Trade Association [OSGATA], put it this way: "Can you imagine if a person decided to paint their house purple on a windy day, and as they're spraying their purple paint, it's blowing all over the next-door neighbor's white house. But instead of having to pay their neighbor for ruining their house, the guy with the purple house sues his neighbor for taking some of his purple paint."
Think this is far-fetched? According to Aviva Shen, writing for Think Progress, Monsanto spends about $10 million a year and employs 75 people whose sole job is to investigate and sue farmers who infringe on their patents, even when the infringement is caused by wind pollination.
Over 300,000 people – farmers, seed growers, and agricultural organizations – brought suit against Monsanto [OSGATA, et al v. Monsanto]. Judges considered the suit to "have merit," so it advanced through lower courts. The Supreme Court, however, declined to hear the case.
The upshot? Monsanto can sue the farmers, but the farmers can't sue Monsanto.
Whoever controls food production controls the people. Right now, it appears that Monsanto is in control.
Here are a few things we all can do to gain back control of our food systems:
Support your local farmers. Join a CSA. Become a member of the Oklahoma Food Coop. Buy from the farmers' market nearest you. Plant your own garden. Join Seed-Savers Exchange. Support seed companies that sell organic and open-pollinated seeds.
You can find information about local, regional, and national seed companies from Oklahoma Food Coop and from Off-Grid Info.
Write your Congressman. Let your lawmaker know that allowing farmers to be subjected to bullying tactics is just plain wrong.
Just because the Supreme Court won't act to protect farmers, doesn't mean that we, the people, are out of options. We may not control the purse strings; that would be corporations and lobbyists. But we control the vote.
If our legislators refuse to act on our behalf, let them know that we do vote … and they won't be getting ours.
– Sharon Martin lives in Oilton, OK and is a regular contributor to The Oklahoma Observer