BY SHARON MARTIN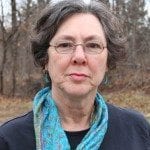 Good news doesn't sell. The unemployment rate dropped to 8.6% last month, the lowest point in three years. Good news, but newscasters quibbled.
"Sure, the economy netted 125,000 new jobs, but…"
The American people would like to have their good news straight. Pundits don't need to water it down with bad news, like folks water down soup when company comes.
Here are some unequivocally good things that are happening:
Young people, up to the age of 26, can stay on their parents' insurance. Because of the Affordable Health Care Act fewer young adults fall into the category of the uninsured.
If special interests can be held at bay, those of us with pre-existing conditions cannot be denied coverage after 2014. These are baby steps in the right direction toward universal access to quality healthcare.
Voters in Missoula, MT, voted to demand that Congress repeal Citizens United, the Supreme Court decision that allows special interests to buy elections with unlimited and secret donations. Cities and states across the nation are joining the brave citizens of Missoula.
Lipitor will have a generic version soon, saving patients and insurance companies money.
Almost 5,000 locally grown, produced, created, or prepared products are available this month from the Oklahoma Food Coop from 98 different producers!
We can buy homemade baked goods or make our own bread using Oklahoma grown and ground grains, local honey, milk from pastured cows, and eggs from free range chickens. And we can spread our bread with the best peanut butter, also grown and ground here, that money can buy.
Finally, it should come as good news to know that heroes still live among us.
Henry Red Cloud trains his Lakota neighbors to build and install solar heaters in homes on the Pine Ridge Reservation in South Dakota. He has built a paper-recycling center for making insulation, installed wind turbines to provide electricity, and runs a buffalo ranching cooperative. All of these things improve the quality of life for the Lakota people.
Will Allen, who played basketball for the University of Miami and was drafted by the NBA, built a second career as an urban farmer. Since 1993, Growing Power, his farming operation near Milwaukee, has expanded into Chicago and 15 regional outreach training centers. He is bringing what he calls a "good food revolution" to people who live in food deserts, areas that, according to the Centers for Disease Control, lack access to affordable fruits, vegetables, and other foods that make up a healthy diet.
Good news and heroes give us hope. Hope feeds action. Let's spread good news. It does a world of good.
– Sharon Martin lives in Oilton, OK and is a regular contributor to The Oklahoma Observer