BY GARY EDMONDSON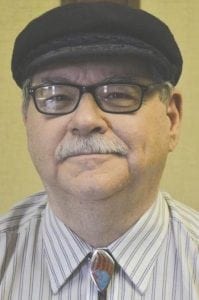 Republican economic theory rests on the overriding principle that the rich deserve to get richer regardless the cost to everyone else. Two self-serving bulwarks prop up that creed: corporate socialism and crony capitalism.
Members of Greed' s Own Party rail against the majority banding together to try to protect itself from their avarice. "Socialism" becomes pejorative, as if working together isn't what built this nation.
They're silent, of course, on the system of corporate socialism with which they reward their donors.
Corporate socialism is best exemplified by the special treatment afforded the oil and gas industry by Oklahoma politicians. A gross production tax of 2% for the first three years [the most productive years] of a well's production makes sure that petro-polluters will remember their pals come election time.
In 2015, those GOP local-control advocates banned municipalities from protecting themselves from oilco fracking activities that might trigger earthquakes or threaten water supplies.
This spring, a new push by Republicans would force any city that challenged Big Oil's superiority to compensate the producers for any regulations or restrictions that resulted from them not getting free rein to act as if they owned the state – and not just its politicians.
And while cities, counties and entire states try to address the pollution of plastic bags, Oklahoma proudly bans those irritating local municipalities from trying to impose restrictions on that petrochemical by-product.
Legislators regulating their own businesses or those of their employers is standard operating procedure.
On the national scene, of course, the 2018 tax scam exemplifies putting corporate [donor] profits ahead of the general welfare. Corporate leaders spewed a lot of hogwash over the economic benefits of them getting massive tax breaks.
The results? In one week in May, Politcus reported "CEO who claimed he gave raises because of Trump's tax cuts lays off 150 employees" and Common Dreams noted "While reaping $21 billion windfall from Trump tax cuts, report shows, AT&T slashed 23,000 Jobs."
Dismantling consumer protections is another favorite GOP tactic for putting corporate profits ahead of people. Some of the most egregious examples concern the ravaging of our nation's public lands.
After rolling back drilling regulations resulting from the 2010 British Petroleum Deepwater Horizon rig disaster to going soft on asbestos and watching the EPA become Enhancing Pollution Advancement, it comes as no surprise that the Daily Kos reports the Bureau of Land Management is changing its official mission statement from "to sustain the health, diversity, and productivity of America's public lands for the use and enjoyment of present and future generations" to the developer-friendly "the economic value of America's public lands."
And, of course, that "economic value" belongs to polluters, who get access to devalue ourlands at sweetheart rates. Corporate socialism in its most obvious form.
Don't overlook the inaction from Education Secretary Betsy DeVos that leaves college students in the grips of loan sharks.
Here's the Daily Kos again: "A federal judge had to tell Betsy DeVos and her Education Department to forgive loans of students defrauded by for-profit colleges – and even after that court loss, DeVos' department is blocking help for more than 150,000 fraud victims … In one year, the Obama Administration approved relief for 30,000 students. In two years, the Trump Administration approved just 16,155 claims, with DeVos whining that relief for such claims is 'free money,' and the department actually referring some defrauded borrowers to the Treasury Department to have their tax refunds seized even though they have relief claims pending."
I guess when the president's sham university gets socked with a $25 million judgment for its nefarious actions, we shouldn't be surprised where the sympathies of his administration lie.
Corporate socialism exposes the myth of the rugged capitalists carving out their fortunes with grit and determination. Instead, we have an organized movement to make government work for corporations at the expense of individuals.
Corporate socialism is the overall guiding principle to Republican economic theory. But, sometimes the pro-bidness biases of Greed's Own Party become more personal. This begets crony capitalism.
Crony capitalism rewards specific individuals with monetary windfalls. When Oklahoma Attorney General Mike Hunter announced the $270 million opioid settlement with Purdue Pharma, the figure included $55.5 million in contingency fees to outside lawyers – chosen without a bidding process – who worked with the state.
As reported in April by Paul Monies and Trevor Brown of Oklahoma Watch April, "More than a dozen states use competitive bidding for outside legal services, but it's not a requirement in Oklahoma."
So, if you have the unquestionable power to award lucrative contingency contracts, you have the ability to reward friends. The bulk of the $55.5 million was shipped to Texas. But what intrigued Monies and Brown was the $5.5 million awarded to Glenn Coffee & Associates.
The reporters could find little actual documentation as to what work Coffee contributed to the case. What they found was a close connection between Hunter and Coffee.
Former GOP Senate Pro Tem Coffee was an adviser to Hunter's 2018 AG campaign: "The Hunter campaign paid Coffee more than $22,700 for legal services in the campaign, according to Ethics Commission reports. It also paid TVC Pro Driver, a Coffee family company, more than $5,000 for the rent of a small office in Oklahoma City."
AG spokesman Alex Gerszewski "did not specifically answer questions about whether Coffee took depositions, wrote motions, attended hearings or participated in settlement negotiations or discovery hearings."
Maybe Coffee was puppet-mastering the whole affair behind the scenes. But you think his pals would provide some evidence for skeptical minds.
Coffee's firm's website brags, "We are the only Oklahoma law firm dedicated to [the] intersection of policy, politics and business."
Location, location, location. Pretty profitable intersection.
Another potential contingency fee windfall was reported by Chickasha State Rep. David Perryman recently. SB 251 would have turned over the amelioration of Medicaid and Medicare benefits with subsequent lawsuits to private attorneys working on a contingency basis.
"For instance," Perryman wrote, "if a person runs a stop sign and injures someone who is on Medicare, the injured person must repay Medicare for the cost of treatment before they are allowed to keep compensation."
Three or four employees at the Oklahoma Health Care Authority – total annual salary of about $150,000 – collected $8.7 million for the state in 2018; $7.1 million in 2017 and $8 million in 2016, according to Perryman.
"So the cost of the recovery is just a fraction of a percent of the total amount recovered," according to Perryman. "It doesn't take a rocket scientist to know that lawyers don't handle contingency fee cases for less than 1% of the amount collected, or even 10% or 15% or 25% of the amount collected."
Had Gov. Stitt signed this bill – he vetoed it – the Oklahoma Department of Insurance would have chosen which lawyers to enrich.
In February, Oklahoma Watch's Brown also reported on Side B of crony capitalism. Three GOP lawmakers who left office in November "are now lobbyists, embodying a practice that state ethics officials have unsuccessfully tried to ban in the face of opposition from the Legislature."
In one version of crony capitalism, legislators reward pals and patrons. In the other, industries reward ex-lawmakers with jobs after their Lege life has ended.
Oklahoma is one of only a few states that has no cooling off period between legislating and lobbying. And efforts by the Ethics Commission to rectify the matter get shot down by legislators looking out for their best interests and not that of the state.
When it's not what you know, but who you know, crony capitalism reigns supreme.
There is a third leg to the GOP tripod of economic favoritism. Privatization is the bastard child of corporate socialism and crony capitalism. It gives government work to special pals in the name of smaller [irresponsible] government while guaranteeing a continuous flow of our tax revenue into private hands. But my level of disgust is nigh on to overflowing.
– Duncan resident Gary Edmondson is chair of the Stephens County Democratic Party