BY JOE DORMAN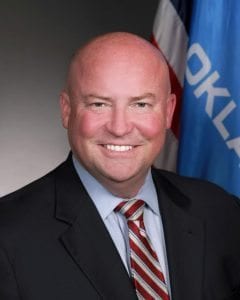 On Monday, Oklahoma welcomed new leadership in our executive branch. Gov. Kevin Stitt was sworn into office and followed the oath with his inaugural speech. Highlights of the address could be divided into four key parts: government accountability, education, criminal justice reform, and economic growth.
Some key observations in each area are listed below:
Government Accountability: Gov. Stitt said he would conduct a "top to bottom" review of government to make sure money spent matches the "values and vision" of his administration and of voters. He said agencies have "too much independence from voters" and can "ignore executive orders, skirt around laws passed by the legislature, hide pockets of money, and protect their own interests by hiring lobbyists." Stitt's focus on accountability reinforced the belief that he will ask the Legislature to give the governor's office more power to directly appoint agency-heads and exert more control over boards and commissions.
Education: Gov. Stitt focused extensively on education and made it clear that it would be a priority-issue for his administration. He praised Oklahoma's pre-K and CareerTech systems as national models. He thanked the Legislature for work done last session [to raise revenue for a teacher pay raise and some classroom expenses] and said he would value teachers and seek to recruit the best. He pledged to break down silos between common education [Kindergarten through 12thgrade], higher education, and career technology programs.
Criminal Justice Reform: Gov. Stitt spoke movingly about an acquaintance he had made on the campaign trail who now runs a ministry for women re-entering society after prison and drug addiction. He said that the state's No. 1 ranking in criminal incarceration was unacceptable, and thanked Gov. Mary Fallin for starting the hard work of meaningful justice reform. "We must do better, and we must believe in the power of second chances, of grace and redemption," he said.
Economic Growth: Gov. Stitt said that job growth, wage growth and economic growth would be used as the guiding principle in his administration. For every policy decision they will ask, "Does this grow Oklahoma?"
I am certainly optimistic about the potential opportunities to work with this new administration and our new Legislature. I have had constructive meetings with incoming Stitt administration officials, and I am particularly impressed and inspired by First Lady Sarah Stitt, who is clearly enthusiastic and sincere in her desire to help Oklahoma's children.
The Jan. 17 bill filing deadline is approaching and we do know that a record number of initial requests were submitted this year. This is most likely due to the large freshman class entering the Legislature. It will be interesting to see how much of their work will mirror our new governor's enthusiasm and ideas.
I want to close this week by recognizing a former lawmaker who passed away last week. Jim Hamilton had the distinction of serving as President Pro Tempore of the Oklahoma Senate, and later served as a state representative and chairman of the House Appropriations Committee. I first met Chairman Hamilton when I became a staff member of the House in 1994. I was assigned to be his "shadow" during the final weeks of the session and I learned more about the process during that period than in any class college class. This man was a thoughtful leader who was responsible for seeing career technology classes put into the Department of Corrections to help inmates earn a skill for a job once they were released, as well as many other innovative ideas which helped Oklahomans. His efforts certainly impacted generations in our state for the better. He will be missed by many, but especially by me.
– Former state Rep. Joe Dorman is CEO of the Oklahoma Institute for Child Advocacy
Photo: Arnold Hamilton/The Observer