BY NYLA ALI KHAN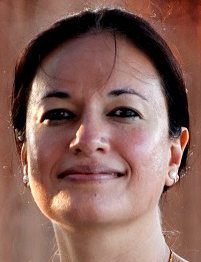 How many of us realize that teen depression and anxiety are issues that should not be off-handedly dismissed and swept under the rug? How many of us are guilty of ignoring the trepidation, misgivings, and self-esteem issues that besiege teenagers? How many of us are aware of the statistics that one in five teenagers will suffer from depression before they reach adulthood, and that every 78 seconds a teen attempts suicide?
As a parent of a teenager, I admit, I don't always react kindly to her emotional outbursts and temper tantrums. I resort to calling my daughter a "drama queen" and rolling my eyes at her sudden releases of strong emotion. And that's probably because I have forgotten what it was like to be a teenager, and I have forgotten how distressing growing up can be, particularly in a world that is not kind to the vulnerable.
My role as the mother of a teenage daughter motivated me to drive to Oklahoma City's Tower Theater last evening to see the teaser for the teen adventure film What Rhymes with Reason. Tower Theater is a quaint performance site, which was built in 1937.
The film speaks to the grueling struggle of teenagers to carve their paths and discover their destinies in an unforgiving world. The director, Kyle Roberts, and producers, one of whom is my friend Denise Castelli, laid emphasis on the reality of teen depression, which can lead to suicide.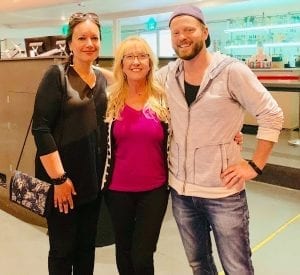 Photo: Dr. Nyla Ali Khan, left, with What Rhymes with Reason producer Denise Castelli and director Kyle Roberts.
They underscored the necessity of finding community and faith-based avenues to treat it. Instead of stigmatizing teenagers who suffer from depression, it would behoove responsible adults to listen to their concerns with sensitivity.
Kyle said, "This film has been on my heart since I was about 18 years old. I'm very excited to bring this film to life told as an adventure/drama with real teenagers going through real problems."
Life demands its dues from all of us, and balancing life's demands is very difficult, particularly for young adults. Life has never been black and white, and there is no mathematical formula for living a trouble-free life. Even the most talented, affluent, and privileged find themselves beset with adversity, hardship, and misadventure. It is in such situations that faith, self-reliance, and the social safety net provided by family/community enable even the most distraught person to heal.
Jonathan Koelsch, one of the illustrators working on the film, observed, "What Rhymes with Reason is exciting because it is not what many Christian films have been stereotyped as – cheesy, hollow, and preachy. Instead, WRWR does not draw any faith-based conclusions, and it's not afraid to be raw. That's very rare. In fact, Kyle coined a poignant term – this is a 'truth-based' film, not a faith-based one. It simply explores the human condition painted across an action-packed and dramatic canvas, and asks the underlying, perennial question that dissuades the faith of many – if the Christian God exists, why do good people suffer so much? It explores the ancient story of Job in a modern, youth-centered tale. … WRWR is the film I wish I could have watched when I was an emotionally struggling and often depressed teen. It's entertaining and evocative without being preachy. It's sincere and authentic."
I observe that What Rhymes with Reason is about organic healing that young adults find by leaning on faith. The film does not infantilize the growing pains of teens nor does it seek to pontificate. On the contrary, the film is about growth through adversity and the dynamism of the human condition.
One of the performers in the film, Brianne Gaither, who regaled us with her soul-stirring performance at Tower Theater, said, "It is a huge privilege to be part of such a meaningful and important project! This film is for anyone who has ever struggled to find hope during a season of tremendous pain."
The film is being produced right here in Oklahoma, which is good for the state, and promises to uncover hidden talent. As my friend Denise Castelli pointed out, "Independent film in Oklahoma has come a long way in the past several years with the addition of directors like Kyle Roberts. His ability to turn a project into profit and expose Oklahoma to a broader audience of studios that hire filmmakers has put us on the map. What Rhymes with Reason is the story that Kyle has been waiting to tell and he will tell it in a way that appeals to teens."
And the more our creativity transcends the fault lines of race, gender, and sexual orientation, the better!
– Nyla Ali Khan is the author of Fiction of Nationality in an Era of Transnationalism, Islam, Women, and Violence in Kashmir, The Life of a Kashmiri Woman, and the editor of The Parchment of Kashmir. Nyla Ali Khan has also served as a guest editor working on articles from the Jammu and Kashmir region for Oxford University Press [New York], helping to identify, commission, and review articles. She can be reached at nylakhan@aol.com.