BY GARY EDMONDSON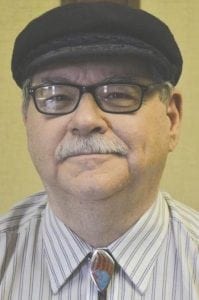 Hot enough for you? Pretty miserable over the past week. My sister turns to watermelons. I find cold borscht refreshing as well.
It has been getting warmer in DC this summer, too.
Seems that the president's lawyer recorded conversations between Trump and fellow connivers as they schemed to silence Karen McDougal, a former Playboy model who claims to have had a 10-month affair with Trump immediately following the birth of son Barron.
Who can blame Michael Cohen for making the recording? Trump's picture could be used to illustrate "pathological liar" in a Rogue's Dictionary. The man has been Trump's lawyer long enough to know to cover his assets.
It got a little warmer for Commerce Secretary Wilbur Ross, too. According to Politico he "was selling all his stock holdings after being criticized by the Office of Government Ethics for some of his financial transactions."
Of course, Ross was supposed to have divested these stocks a year-and-a-half ago, but personal gain from governmental policies is a hallmark of the most corrupt administration since Warren G. Harding's – no longer the worst president we ever had.
It finally got too hot in Washington for Oklahoma's own Scott Pruitt, grifter par excellence, who was sent home with an "atta-boy" from the Grifter-in-Chief for his destructive policies at the Environmental Protection Agency.
Still, The Hill reported earlier this month, "The House Oversight Committee said that it will continue its investigation in Pruitt's lavish travel and security spending, as well as his below-market rate apartment rental from a lobbyist."
While Pruitt's departure will likely slow down the investigations, such indiscretions as trying to get lobbyists to find a $200,000-a-year job for his wife – if not a Chik-fil-A franchise – will likely go unchecked.
I'm particularly interested in the $2,749.62 Pruitt spent for "tactical pants and tactical polos." I've picked up some pretty good shirts for $1 each at local yard sales.
Not to worry, though, Interior Secretary Ryan Zinke has now exceeded double figures in the number of investigations of his financial and ethical decisions during his tenure.
The latest probe by Interior's Office of the Inspector General concerns a land deal in his home state of Montana. ThinkProgress reports, "Zinke has been under fine for his role in a land deal linked to Halliburton chairman David Lesar. A Politico report in June revealed that a foundation established by Zinke and his wife, Lola, is linked to a multi-million dollar real estate deal …
"Democrats called for an investigation into those revelations, noting that Zinke's possible opening of some of the 500 million acres of public lands he oversees for oil drilling would directly benefit companies like Halliburton. Lesar and his wife in the past donated the maximum campaign contribution to Zinke's first congressional campaign."
It got a bit hotter for Maria Butina, accused of acting as an unregistered Russian agent, one of whose main duties seem to have been directing "dark money" into National Rifle Association campaigns.
Trump's Treasury Department tried to cool things off for her – and the NRA – by announcing "that it will no longer require most non-profit organizations to report their donors to the IRS," according to NBC's Jessica Levinson, who added, " … this new policy will just make elections less transparent, and crack the door open wider to additional foreign influence in our elections."
We must assume that whichever of Vladimir Putin's hands was inside his Trump hand-puppet in Helsinki was warmer than his free one.
It should have gotten much warmer for the president as well, considering his Neville Chamberlain imitation. But Republican leaders continue to demonstrate that, if Trump can capitulate to Putin, they can abandon us – the U.S. – for Trump.
– Duncan resident Gary Edmondson is chair of the Stephens County Democratic Party