BY SHARON MARTIN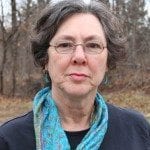 P. J. O'Rourke said, "Everybody wants to save the world but nobody wants to help Mom with the dishes."
He's not so far off. All us altruistic types want to "be the change we want to see in the world," but first we have to get up off our butts.
I invited my friend Diane to picket a tar sands pipeline site with me, but she has been dealing with the abusive relationship across the street. Twice she has called the town's lone police officer to intervene for a young neighbor. The lady's abuser has dragged her down the street and rammed her vehicle. So far, the policewoman has talked to the man. That's all.
"I don't have time to picket a pipeline," she says. "But I'll carry a sign about violence against women."
There will be two of us on that picket line.
I suggested to an environmental group that all of us who are opposed to tar sand pollution of our water write a letter to President Obama urging him to take a firm stand on the Keystone XL Pipeline issue. The picketers didn't think it would do any good. I'm writing a letter anyway.
What will get you off the couch and into the kitchen to help Mom clean up? Here's my short list:
I want clean water – not only for me but for my grandchildren.
I want violence against women to be considered a crime. Every scared person – woman, elder, child – needs a safe place to run to and law enforcers who can come to their aid.
Every child needs a bed, three meals a day, and a good education.
You can really find out what's important to a person when they'll carry a sign on a cold day, chain themselves to a tree, or go to jail for a cause.
We ask big sacrifices of our soldiers. We ask teachers to work for peanuts and no respect. We expect nurses to put their health on the line. What are we going to do? What can we do?
I'm going to write a letter to my president, two senators, and my Congressman today. Today. I'm going to ask my president and the senators to protect our clean water from tar sand pollution. I'm going to ask my Congressman why the hell his body didn't pass the Violence Against Women Act.
Also, today, I'm going to make a sign. And when the time comes, I'm going to carry it so that pipeline execs know I'm serious. And I'm going to hope I don't go to jail, but I will if I have to.
What are you going to do?
– Sharon Martin lives in Oilton, OK and is a regular contributor to The Oklahoma Observer
Creators Syndicate