BY DAVID PERRYMAN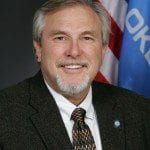 Roughly once every 2½ minutes, around the clock, 24 four hours per day, a man or woman who served in World War II and experienced its sights and sounds and its terrors and triumphs passes on. They are now mostly in their 90's and are dying quickly – at the rate of about 555 a day, according to recent US Veterans Administration figures.
In 2004, my dad passed away. He had served in the Pacific with an air squadron formed at Burns Flat at the Clinton Sherman Naval Air Station. This week, my brother and I traveled to Illinois for the funeral of our Uncle Albert, another farm boy who did his part to insure that you and I have the opportunity to do ours.
Albert's heart was tied to the land and the people who labor every day to make this country great. For that reason, on Dec. 8, 1941, the very day that President Franklin Roosevelt delivered his famous "Day of Infamy Speech" to a joint session of Congress, Albert enlisted in the U.S. Navy. His fire control training lasted a short six months and his orders came to join a brand new battleship, the BB-61, designated the USS Iowa.
Albert was on board when the ship was commissioned on Feb. 22, 1943 and set sail from Chesapeake Bay under the motto of "Our Liberties We Prize, Our Rights We Will Maintain." Uncle Albert's duty station was one of the Iowa's big 16-inch, .50 caliber guns and it was he who fired the first shell in battle from that ship and fired the next 1,999 from that gun.
He was with the Iowa in both the Atlantic and Pacific Theaters and when it transported President Franklin D. Roosevelt to Africa on his way to a meeting with Winston Churchill and Josef Stalin in Tehran and back home again in the fall of 1943.
He made sure that those big guns were accurate at 23 miles when they shelled the beachheads of Kwajalein, Eniwetoch and Iwo Jima to give U.S. Marines cover as they advance amphibious landings. His guns screened aircraft carriers operating in the Marshall Islands and supported air strikes against a half a dozen other islands like Palau and Wake.
Accuracy paid off in the shelling of Saipan and Tinian as they blew up ammunition dumps. From the time it was commissioned until the end of the war, my Uncle Albert Ebel and 2,500 others served nobly on the USS Iowa through battle after battle including Japanese torpedoes and kamikaze pilots.
On Aug. 27, 1945 the USS Iowa entered Sagami Bay along with the USS Missouri to oversee the surrender of the Yokosuka Naval Arsenal and two days later entered Tokyo Bay as the flagship of the Third Fleet for the surrender ceremony on Sept. 2.
The war was over but beginning in October 1945, the crew of the USS Iowa became part of Operation Magic Carpet where nearly 400 ships of war became Liberty Ships repatriating over eight million military personnel.
Among those picked up by the USS Iowa were 2,000 American POW's who had been held by the Japanese. Most were so emaciated and weak that they could barely salute the flag as they boarded the ship. As they came aboard to the band playing the national anthem, Albert recalled that rescued and rescuer alike were not just shedding tears, they were all crying out loud together.
Through the years, Albert has been president and chairman of the USS Iowa Association and museum committee and was an invited guest to the May 29, 2004 dedication of the World War II Memorial in Washington D.C.
Albert did his part for this country. Are you doing yours? As we have observed before, it is not an easy job. It takes commitment and perseverance.
Doing your part involves learning about the issues from a variety of sources and not just from a single news outlet with an agenda. Doing your part is not accepting the sound bites but digging deeper with empathy and compassion for those who are not able to protect themselves.
Doing our part is realizing this Independence Day that our enemies are not the members of the other political party but are instead those who threaten the peace and opportunities that the members of our military have worked so hard to preserve.
Doing our part is overcoming apathy by cherishing and exercising the right to vote.
As you see the flag pass by or hear the national anthem played or watch fireworks explode overhead, look deeply into the eyes of another American, consider what has been done for you and consider whether you are willing to do that for them. If not, why not?
– David Perryman, a Chickasha Democrat, represents District 56 in the Oklahoma House of Representatives