BY DAVID PERRYMAN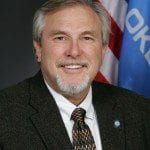 There are a number of phrases and rhetorical statements that may be used to describe the vanity that exists when one wants to exude an image for which there is simply no underlying basis. A British sitcom of the mid 1990's named Keeping Up Appearances captured that idea. In that show, Hyacinth Bucket [which she insisted be pronounced "Bouquet"] was a snobbish lower middle class social climber who was forever attempting to prove her social superiority and gain favor with those whom she considered upper class.
A similar concept is captured by the phrase "Keeping up with the Joneses" and the often unsustainable situation where an individual strives at great length to appear to be as affluent as the proverbial well-to-do neighbor.
As a state, Oklahoma is in the midst of a similar personal crisis.
Over the past nine or 10 years, the Oklahoma Legislature – with full cooperation of the state's governors – cut hundreds of millions of dollars from the state's K-12 budget. In fact, prior to last year's teacher pay raise, Oklahoma's K-12 education funding had been cut by more than 28%, representing the deepest cuts of any state in the union.
Coupled with those cuts were a number of policy bills that diverted additional dollars from traditional public schools. Those policy bills set up statewide charter schools, education savings accounts, private and charter school scholarships and other voucher-like bills that harmed schools across the state by diluting the scarce amount of funds that were not cut.
The natural consequence was that a number of school boards and administrators across the state took immediate steps to make certain that their students remained well educated even in the wake of drastic budget cuts. One of the more common cost-saving responses was to change the format of the school week from five days per week to four days per week.
Those schools adapted well and recognized fiscal saving while also taking care that academics were not compromised.
Then came the blowback. National media outlets widely publicized Oklahoma's budget cuts and used the four-day school week format as clear evidence that then-Gov. Mary Fallin and the Oklahoma Legislature did not value education and were satisfied with relegating our state [and its population] to a less than promising future.
So how would Oklahoma's leaders respond?
The answer became abundantly clear when this year's legislation was filed. Instead of properly funding education so that schools could afford to return to five day school weeks or otherwise improve the quality of education available to our youth, legislation filed included additional voucher type legislation and tax credits for private school scholarships.
Those bills and others like them further diluted funding that would otherwise be available for public education. Adding insult to injury, in response to bruised pride related to their neglect of education, SB 441 was filed that mandated that all schools return to a five-day school week.
Some would say that they were just trying to "Keep Up Appearances" but the situation goes much deeper than that. By mandating that schools return to a five-day week without properly funding public education and by continuing to dilute the funds available to public education, the Legislature that is overly concerned about appearances could be described as putting Lipstick on a Pig to salve their own feelings of inferiority.
Many schools across Oklahoma are seeing the academic, economic, disciplinary and teacher retention benefits of four-day school weeks. This is an area where local control and the wisdom of local administrators, parents and school boards should prevail.
This week, SB 441 may be heard and possibly sent to Gov. Kevin Stitt. Proper public school funding and not a thick layer of lipstick should be the Legislature's response.
– Chickasha Democrat David Perryman represents District 56 in the Oklahoma House and serves as minority floor leader