BY SHARON MARTIN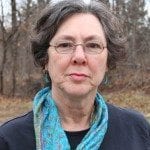 If you fear change enough, you can just refuse to acknowledge that things are changing. We humans have the amazing ability to believe whatever we choose to believe, despite all the facts to the contrary.
People who make a living in the oilfield need to believe that fossil fuel consumption doesn't cause climate change. I understand this denial. Folks have to feed their families.
An Oklahoma minister believes that a verse in Genesis is all the proof he needs to deny climate change. He believes a dozen or so words translated from Greek into English during the reign of King James I. That's a little harder to understand.
Perhaps he can do as Solomon and St. Francis admonished and try to understand me. I'm angry about the denial.
I have a small farm. I raise chickens for eggs and meat. Last year, it was so hot that most of my chickens died despite the fan in the chicken coop window and the water misters in their yard. It was so hot that tomatoes didn't blossom and the okra burned up. Too hot for okra!
For two years running, the last frost of the season has come a month early. This year, March was so warm that it stunted my potatoes.
At the end of June, one of my hens died from the heat. June – and I'd already lost a chicken to the heat!
This spring I painted the coop white to reflect the sun. I put up shade cloth on the south and west ends of the chicken yard. I'm running a mister and checking the girls often. It isn't enough.
Maybe melting polar ice doesn't drive the polar bears to the rocky islands. Maybe it isn't melting glaciers in Greenland that cause rising ocean levels to threaten homes along the North Carolina coast. Maybe we can just avoid change until New York is swallowed and the mountains burn.
What if scientists are wrong and it isn't carbon dioxide in the air that is shriveling my plants and killing my birds? Will anyone be hurt if we take steps to curb emissions?
What if the naysayers are wrong and it is the fossil fuels and the carbon dioxide? Are there cleaner forms of energy we can develop? Who will be hurt if we don't try?
Wouldn't you rather be safe than sorry?
I want to believe that we humans will do the right thing, but as I buried my hen in the garden, it was hard to be optimistic.
– Sharon Martin lives in Oilton, OK and is a regular contributor to The Oklahoma Observer