BY JOHN M. WYLIE II
As the New Year dawns, two stories of Christmas compete in Oklahoma.
One told in Christian services statewide is of the Magi, kings from distant lands, who came to Bethlehem to worship Jesus and bestow on Him the great treasurers of the era – gold, frankincense and myrrh. They also foiled a plot by wicked King Herod to literally slay the Savior in his rough-hewn cradle.
The other tells of Gov. Kevin "Dictator Grinch" Stitt, who has launched virtually alone an attack on the sovereign Native American nations who have given Oklahoma almost $13 billion a year in economic activity built on formal compacts [think international treaties] granting them the exclusive right to operate full-fledged casinos in the state.
In exchange the tribal nations paid over $148 million in exclusivity fees in 2019, up over 7% from 2018. Since the compacts were signed, they've poured millions more into a wide variety of community projects addressing medical, food, disaster assistance, educational and other critical needs across their vast portions of the state – work the state can't or won't do itself.
These benefit Native Americans and non-citizens alike. The casinos also offer a wide variety of non-gambling entertainment – often the best in the state – providing a huge economic development and tourism expansion to the state.
The compacts renew automatically every 15 years if the tribal nations meet certain conditions, but Gov. Stitt announced in the fall that they would be terminated and gambling criminalized at midnight when New Year's Eve becomes New Year's Day. He says they have failed to meet the contract requirements for renewal and is demanding increased payments before renewal is even discussed, threatening to bring in out-of-state commercial gambling if they don't, though he's never said what requirements they've missed.
Instead he ordered state audits [which by definition have potential criminal implications] of all sovereign tribal nation with gaming operations, starting with a visit to Chickasaw Nation headquarters by a team of state auditors Thursday.
Tribal Gaming Commissioner D. Scott Colbert said such action exceeds state authority, though officials will be glad to go over the independent audit required by the compact and answer questions. The state already has gotten one copy, and another was mailed with a letter outlining his response to the governor's demand.
But top Stitt aide Donelle Harder said the state has the authority and duty to monitor the conduct of games allowed by the compact.
The Oklahoma Indian Gaming Association chair replied bluntly, "Commissioner Colbert wanted to make sure everybody understood their swim lanes."
Such lack of understanding has never stopped people like Stitt and his historical ancestors such as President Andrew Jackson, whose face continues to disgrace our $20 bill despite his paternal role in the deadly Trail of Tears drive of Native Americans from their Native lands further west, or the slaughter of Osage Nation members outlined in the 2017 book Killers of the Flower Moon [still on the national Top 10  seller lists nearly three years later and being made into a major motion picture], or the deaths of Native Americans as well as Black Americans in Tulsa's Greenwood Massacre.
Stitt's effort is no different other than his methodology – personal wealth, rich donors, an administration devoted to centralizing power in the governor's office and a zeal for slashing state spending while claiming a goal of making Oklahoma the nation's No. 1 state.
Unfortunately, the sovereign tribal nations were performing miracles the state couldn't accomplish, funding work the state couldn't handle, and providing the state new jobs and taxpayers while pumping in a cool $150 million cash a year – which was growing at 7% annually.
The Hard Rock Café name is one of the biggest in show business. Having a concert or performance at a Hard Rock means a star is shining or has just shot into the sky.
Catoosa, where one of the newspapers we've founded or co-owned was located, remains dear to our hearts. The community then seemed to have everything going for it, but somehow got little benefit:
*The Port of Catoosa was the nation's largest inland port, yet the City of Tulsa and the federal Army Corps of Engineers actually controlled it.
*The city had enormous community spirit, but limited sales-tax producing outlet.
*The area's biggest tourist attraction, the Blue Whale, was aging none too gracefully as historic Route 66 was supplanted by interstate highways.
That was 1991. What a difference three decades makes. The Cherokee Nation chose Catoosa as the site for its first casino when it signed its compact and started building.
It started with a Bingo parlor which offered higher jackpots but was far from a regional or national draw. But as the casino project grew, so did the realization that something special was happening and it gained the Hard Rock name.
It added live entertainment, and then a 4,000-seat concert hall called The Joint with an intimate semi-circular seating plan, incredible acoustics and all the accoutrements need to draw major stars wanting a posh but intimate setting for stellar performances.
Joined by a premiere golf course, luxury hotel, wide range of dining from a café promoting Route 66 menu items and feel, a bar and grill with fine steaks, and a new home for Tulsa's home of gourmet dining and the gambling became almost secondary.
Catoosa exploded. With a huge influx of new business, visitors, residents, elimination of blighted areas, and the resources to put the community's energy to work.
As former co-owners of the local newspaper, we remember the frustrations of the early '90s. On Dec. 30 we attended a show by superstar Jackson Browne, who with his talented cast played a straight two hours and 10 minutes ranging from Top 40 hits to classic songs with Spanish, Cuban, '60s underground rock from collaboration from Velvet Underground and so much more.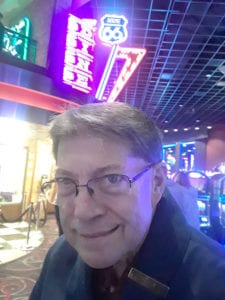 Coming into Catoosa, the Blue Whale was completely revived, almost a calf in spirit with bright lights but back to full whaledom. The Gazebo park was a winter wonderland of lights, Christmas trees and decorations surrounded by an array of inviting new businesses.
The nation also bought Will Rogers Downs Race Track, turned it into a racino and entertainment center with a primarily country theme, drawing a different crowd there – often far beyond just the casino patrons. Its location spurred rapid commercial development from Claremore down Highway 20 to Mayes County on the east and Claremore [including Route 66] on the west.
While always supportive of famed humorist, philosopher and U.S. ambassador of good will and aviation Will Rogers – a proud Cherokee – from Oologah through his birthplace ranch there and memorial museum in Claremore, the Cherokee Nation was able to work with the state on far more ambitious projects at both locations, creating a nationally renowned annual fly-in at the grass landing strip on the ranch and a new theatre for Rogers' films and the national film festival it spawned this year at the memorial, among other projects.
As owners of the newspaper in Will Rogers' birthplace for 33-plus years, we watched the Cherokee Nation grow, prosper and help Oklahoma do the same with delight.
Soon other entrepreneurs were working with the tribe, its businesses expanded to make it one of the state's most significant employers not only in entertainment but also electronics, technology and other goods and services. Once limited to the most basic needs, services – such as supplemental health care and commodities to help with nutrition needs – were greatly expanded, along with aid to public service agencies.
Other sovereign Indian nations were doing the same thing, using gambling income to diversify Oklahoma's economy and services.
If the account of the Magi was repeated with their gifts given to Jesus and God to found a huge religious rebirth, protect its earthly leader, and serve the people with a bright future, all would be well.
But another Biblical account tells of the origin and motives of the serpent in the Garden of Eden. We hope Gov. Stitt will remember who the serpent served and who the righteous and wise support before it is too late.
It isn't a political issue, it goes far deeper. As Jackson Browne sang Monday night:
I ain't no Communist and I ain't no Capitalist
And I ain't no Socialist and I ain't no Imperialist
And I ain't no Democrat so I ain't no Republican
I only know one party and it is freedom …
I am a patriot and I love my country
Because my country is all I know.
– John M. Wylie II is an Oklahoma Journalism Hall of Fame member and former editor/publisher of the Oologah Lake Leader.
Editor's Note: The Cherokee, Chickasaw and Choctaw nations filed suit Tuesday against Gov. Kevin Stitt, urging a federal judge to rule tribal gaming compacts automatically renew on New Year's Day.
"We have a solemn duty to protect the sovereign rights of our Tribal Nations as well as the interests of our citizens," Chickasaw Nation Gov. Bill Anoatubby said in a prepared statement accompanying the lawsuit's filing.
"While we prefer negotiation to litigation, the federal court is now the only reasonable alternative to bring legal certainty to this issue. We remain hopeful we will continue to have a productive and mutually beneficial relationship with the State of Oklahoma once we have resolved this issue."
The tribes' contention that their 15-year gaming compacts with the state automatically renew on Wednesday is at odds with the governor's belief the compacts expire unless extended or renegotiated.
Stitt has demanded the tribes renegotiate the compacts and pay higher exclusivity fees.