BY GARY EDMONDON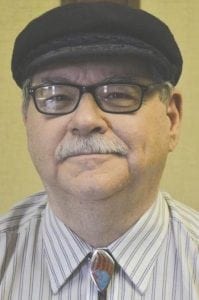 One of the silliest of Kevin Stitt's attacks on Drew Edmondson is trying to paint the Democratic gubernatorial candidate as a liberal.
If you're looking for a liberal Edmondson, I'm your man. But I'm not running for anything.
Drew favors putting the gross production tax back at the 7% mark where it sat for years while the state prospered under Democratic and Republican administrations. State agencies were actually able to serve citizen needs and we were on par with neighboring states in educational funding. Returning to 7% GPT is a truly conservative return to the way things used to be.
Drew proposes to again increase the tax on cigarettes. That kind of picking on the poor proposal is about as un-liberal as you can get.
Stitt touts his business experience, as if his Gateway Mortgage making Business Insider's Top 15 Shadiest Mortgage Lenders in 2009 is not on the public record – along with having its license revoked in Illinois.
Yet, this self-professed astute businessman criticizes Drew for spending $30 million for outside legal help while Oklahoma attorney general when he pursued the tobacco companies for the sickness and death they inflict.
Thirty million dollars isa lot of money. But it represents only 3% of the more than $1 billion the Oklahoma Tobacco Settlement Endowment Trust [TSET] has received since 1998 – and it's still growing. What conservative financier wouldn't take $1,000 for every $30 invested?
A state needs funds to operate. Of course, Republicans want a government that functions only well enough to insure greater profits for their campaign contributors.
The lip service they give to education without offering the necessary funding is the prime example. Stitt sends his kids to private school. The rest of you …
And TSET is protected from legislative avarice – and the punishing partisan politics that kept Oklahoma from expanding its Medicaid coverage. Drew favors such an expansion to protect our rural hospitals.
In Pauls Valley, 130 hospital workers lost jobs. Hundreds more are threatened elsewhere. Protecting jobs sounds like sound a conservative talking point.
Stitt criticizes Drew for supporting Hillary Clinton, his party's candidate for president. She wasn't my first, second or ever choice for the nomination. But she wasn't a boasting misogynist and happy, hateful racist.
Remember, in the Oklahoma GOP primary, Trump barely finished second with less than 30% of the vote statewide. People knew what he was. He's only gotten worse. Seventy percent of my Republican neighbors are better than that and know better than that.
What about the company Drew keeps?
Many of his close associates have endorsed Republican candidates down the ballot. Such friends tell you the kind of wildly liberal crowds Drew does not frequent.
Family history? Stitt – who didn't vote for governor between 2000 and this election cycle –  acts as if there's something suspicious about dedicated public service. Drew's father was a congressman, his uncle a governor, his brother is a Supreme Court Justice.
A dedicated public servant from a family dedicated to our state or an indifferent private citizen with a shady business background?
And for those needing the history lesson, I'll point out that Drew's Uncle Howard, the governor who got himself appointed U.S. Senator toward the end of his term, was defeated in the ensuing primary by Walters' own Fred Harris – probably the last real liberal to hold a statewide office, more than 40 years ago.
The Republicans' Southern Strategy of co-opting Southern Dixiecrats saw many Democrats switch parties. But there remains a solid group of serious, conservative Democrats who advocate fair play and a government that works for everyone. Democrats have a big tent; we welcome diversity.
This isn't a "liberal" principle, just good citizenship.
– Duncan resident Gary Edmondson is chair of the Stephens County Democratic Party. So far as he knows – and he's researched his family tree back more than two centuries – he's not related to the Democratic gubernatorial nominee.
Photo Illustration: C-Span