BY SHARON MARTIN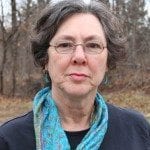 Rev. Lankford, I was dismayed to hear you say that you would govern according to Biblical principals. You have every right to live your life according to those principals, so long as you don't hurt anyone, because our Constitution guarantees it. But don't forget that your constituents are Christians, Buddhists, atheists, Hindus, Muslims, pagans. Their rights are also guaranteed.
Moreover, I don't think you intend to follow all the biblical principles, just the ones you choose. You said your first order of business is to get rid of the Affordable Care Act. Jesus told us to heal the sick. The best way to do that is to make sure that every single one of us has access to quality, affordable healthcare.
One in five of your constituents live in poverty, many of them working a minimum wage job or two, yet you don't support an increase in the minimum wage.
One in six children go to bed hungry every night. You want to gut the social safety net. Jesus weeps.
You want to balance the budget on the backs of your constituents when, in fact, it could be balanced if we'd just quit fighting and funding wars. War make a few people wealthy but leaves little to care for the taxpayers. And my Bible says, "Thou shalt not kill."
If it is wrong to kill, it is wrong to kill. It doesn't say you have a pass to kill your enemies. It doesn't give us permission take out those who aren't Christians.
Don't get me wrong. I'm not purely biblical either. I seldom turn the other cheek. I believe in a strong national defense, but armed offense is a sin.
I'm not one of those who moans about how much money we spend on foreign aid. I just think the foreign aid should be spent on projects that help people.
We are right to fight Ebola. We are right to build wells. We are right to send aid in times of national tragedies. We can make more friends helping others in time of need than we ever will by dropping bombs on them. And it costs less. And friends make us safer than enemies do.
Jesus drove the moneylenders out of the temple. Jesus brought his message of peace to the people. Jesus told his followers to pay their taxes, to render unto Caesar that which is Caesar's and to God that which is God's.
I have been told by those who have met you that you are a good man. Your decency and the U.S. Constitution are all you need to legislate. Anything else violates our Constitutional rights.
– Sharon Martin lives in Oilton, OK and is a regular contributor to The Oklahoma Observer