BY SHARON MARTIN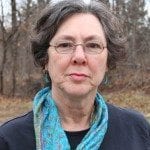 Home health saved me after my hip replacement. So, when my doctor and I scheduled my knee replacement, I knew I'd rely on home health again. Since I couldn't drive, my doctor also prescribed home physical therapy.
Not so fast, said my insurance carrier. It's not cheap, and it has a hefty deductible, but my major medical policy doesn't cover home visits of any kind.
I did the exercises I was shown in the hospital, read the book on how to use appliances, but I was on my own until my four-week post-op visit. It wasn't my doctor who determined what I would need but insurance company accountants.
The accountant doesn't know what is required to take care of the patient but what is necessary to make the most money for his company. This, folks, is that rationed care the insurance industry lobbyists have been warning us about, only they've been doing the rationing all along.
In several studies in this country and abroad, from a range of universities and organizations, the United States ranks No. 1 in terms of health care costs, more than $7,000 per person each year.
In these same studies, we rank either dead last or near the bottom in health outcomes, from infant mortality to number of deaths that could be avoided with preventive care.
This is the result of two things, I believe. In the United States, healthcare isn't a human right but a business. And it is business people, not health professionals, who determine what care a patient receives.
When I was four years old, I contracted polio. It has affected my health for a lifetime, but it has also affected my health care options.
The resulting fatigue prompted me to retire early and work part time. I could have taken disability, but didn't; I wanted to work as much as I could.
In the United States this affects insurance coverage and forces many people into hard choices that aren't based on their best interest or the country's.
What if every American had access to preventive care? What if health care professionals and the patients determined the best course of treatment for a patient?
What if every citizen shared in the cost of healthcare as we all share in the cost of homeland security? What if doctors, nurses, and administrators were paid good wages, but shareholders were taken out of the profit loop?
Our healthcare system needs fixing. Who is brave enough to stand up to special interests so that the people who foot the bills get the care they need?
– Sharon Martin lives in Oilton, OK and is a regular contributor to The Oklahoma Observer