BY RALPH NADER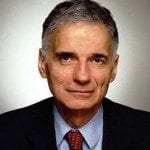 Here are my recommended books to read for the late summer holidays:
The Green Cowboy: An Energetic Life, by S. David Freeman, Authorhouse. A powerhouse in energy policy and clean energy reform for over 30 years, Freeman ran the Tennessee Valley Authority and other large public utilities over the course of his career. In The Green Cowboy, he recounts the struggles, setbacks and triumphs of a life driven to provoke change in America's use of energy. This book is a handbook on bending corporate power toward progressive change.
How the World Breaks: Life in Catastrophe's Path from the Caribbean to Siberia, by Stan Cox and Paul Cox, The New Press. This is a world tour of actual disasters where nature's fury and man's folly often combine to provoke acts of stunning courage and resilience. Unfortunately, many practices of prevention for a safer future were not deployed post-disaster. A gripping series of accounts by this intrepid father/son team.
Power Wars: Inside Obama's Post-9/11 Presidency, by Pulitzer Prize winner Charlie Savage, Little, Brown. The New York Times reporter explains how Barack Obama, "the most lawyerly of American presidents," contrary to his 2008 campaign promises, in Yale Law professor Bruce Ackerman's words, "will leave office confirming and extending many of the worst Bush precedents in the conduct of foreign and military affairs."
Reign of Error: The Hoax of the Privatization Movement and the Danger to America's Public Schools, by Diane Ravitch, Alfred A. Knopf. Ravitch cuts through misguided or profiteering propaganda and, without sugarcoating, shows the value in improving our country's public schools.
The Hidden Wealth of Nations: The Scourge of Tax Havens, by Gabriel Zucman, University of Chicago Press. A short, pioneering guide to estimating the trillions of dollars moved to tax havens to evade or avoid paying taxes to the nations from which this expanding mountain of money was made. Zucman proposes measures to end the party of these giant tax escapes and make tax avoiders and evaders pay their fair share.
Hell is a Very Small Place, edited by Jean Casella, James Ridgeway and Sarah Shourd, The New Press. Hear the voices of people from solitary confinement. Prisoners call this inhuman space "the hole" and nearly 100,000 people in the U.S. are put in solitary confinement for 23 hours a day. Take the time to read these haunting stories and learn about what formidable advocates are doing to stop this torture one state at a time.
Machines of Loving Grace: The Quest for Common Ground Between Humans and Robots, by John Markoff, Harper Collins. If you doubt whether the human race, its technological, corporate and political leaders are racing downward into a future that doesn't need us, read this report by a veteran newsman who avoids horrific conclusions to get you to read what's already coming.
The Looting Machine: Warlords, Oligarchs, Corporations, Smugglers and the Theft of Africa's Wealth, by Tom Burgis, Public Affairs. This bold reporter shows "the network of traders, bankers and corporate raiders who grease the palms of venal local political elites" to turn Africa's riches into a curse for its poor masses.
The Experimental Society, by Marshall S. Shapo, Transaction Publishers. This prolific law professor examines the culture and political economy of market and environmental "experiments" on consumers, workers and whole communities. He educates readers on the various responses by the law in managing and disciplining risks. A mind-stretching work that no doubt will intersect uncannily with your daily life.
Lights Out: A Cyberattack, a Nation Unprepared, Surviving the Aftermath, by Ted Koppel, Crown Publishing. The famous newsman writes about "the eventuality of a debilitating cyberattack against our electric power grid." It is a wakeup call that ends "with the notion that the Internet, among its many, many virtues, is also a weapon of mass destruction."
GM: Paint it Red: Inside General Motors' Culture of Failure, by Nicholas Kachman, Mariner Publishing. This General Motors career chemical engineer has vivified his retirement with this lively memoir of the mega-billion dollar boondoggle that was supposed to deal with the serious air pollution from the auto painting process. An inside story by an insightful writer who still applies what he knows to some of GM's present day negligence and bureaucratic rigidities, such as Flint, MI's ongoing drinking water tragedy.
Washington, D.C. History for Kids: The Making of a Capital City [With 21 Hands-On Activities], by Richard Panchyk, Chicago Review Press. I often say that we should strive to become good ancestors. In introducing our children and grandchildren to significant subjects, this book is a valuable and fun resource for developing minds.
And one vintage book [2007] so relevant today is The Elements of Journalism: What Newspeople Should Know and the Public Should Expect, by Bill Kovach and Tom Rosenstiel, Three Rivers Press. This book should be read by journalists, journalism students, and engaged citizens.
How true it is that readers think and thinkers read.
Nader.org