Editor's Note: Former Michigan Gov. Jennifer Granholm opened her keynote address at today's annual Sally's List luncheon in Oklahoma City with an exquisite Dr. Seuss-esque ode to progressive women in politics. Sally's List is marking its fifth year of helping recruit and train progressive women to run for public office in Oklahoma.
BY JENNIFER GRANHOLM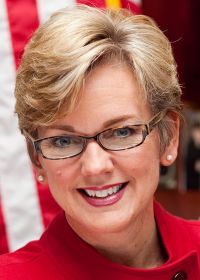 Oh, how long we've waited for this:
For five years now you've been compiling a list.
Men lead Oklahoma by margins too large –
Time to put some more women in charge!
So what about Sally, you may inquire
What does she stand for? Can she inspire?
While your list is named for Sally Rae Merkle Mock
It's more than one woman of whom we take stock:
Sally's the girl who sees the boys win the gold;
She's the worker who reels when the company's sold;
She's the mom with a heat bill too high when it's cold;
She's the CEO who's finally broken the mold;
Sally's fearless and confident and bold!
So batten down the hatches, amass the artillery
You know that in this crowd, Sally is Hillary!
Now, Sally is Kay Floyd and Jari Askins and Meg Salyer, too –
Truth be told, Sally is you.
You say the last election made you depressed.
Was it our message that wasn't expressed?
Did we fail in our GOTV?
Did we not spend enough time and money?
So I understand the need to grieve,
But after these months we're now up from our knees.
We've got work to do and here in your capital
You're signed up, enlisted and ready for battle!
In your state house, women are at 12%!
Time to recruit women who will represent!
Including Republican women I might add
They don't like either that their party's gone bad.
Now, over in DC, it's gridlock times ten.
All that can be fixed with some more estrogen.
The boys had their fun; let's turn a new leaf.
We want a woman as Commander in Chief!
Despite that election, the Tea Party's afraid
That we'll hold the White House for another decade.
So they're planning attacks, over and over again.
But hey, Sally's been planning, too, since two thousand and ten.
Will we see a raucous Republican fight?
Will Cruz and Santorum push them more to the right?
Will Chris Christie tone down the volume a smidge?
Have we heard the last of the George Washington Bridge?
Will Rick Perry's memory agin' start to failin'?
Can we please have the second coming of Sarah Palin?
Did Jeb Bush also stash his money offshore?
Will his cars get their own elevator?
So the far Right is auditioning every conservative star;
Looks like another fun full clown car.
Rand Paul, Ted Cruz, Donald Trump blowing his horn —
Just put up your feet and break out the popcorn.
We'll just let them steep in their party of tea,
We'll fight for the White House from Tulsa to DC!
For us our candidate could be heaven sent:
No finer words it seems than "Madame President!"
– Jennifer Granholm served as Michigan's 47th governor from 2003-11. The author of the best-selling A Governor's Story: The Fight for Jobs and America's Economic Future, she serves as Distinguished Adjunct Professor at the University of California-Berkeley School of Law and Goldman School of Public Policy and is Senior Research Fellow at the Berkeley Energy and Climate Institute and Center for Information Technology Research in the Interest of Society.