BY JOE DORMAN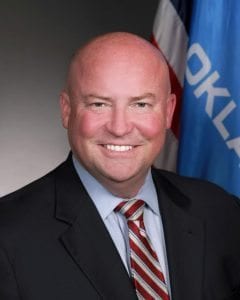 We are approaching a critical deadline in Oklahoma as we near the end of the legislative session. No comprehensive budget solution has moved forward to address the roughly $1 billion shortfall facing our state.
Both Gov. Mary Fallin and the House Democratic caucus have released plans to balance the budget by raising new revenues, but the House of Representatives as a whole has not unveiled their solutions at this point. Legislative leaders in the majority are working to find consensus within the body to provide the necessary 76 votes needed to pass any revenue raising measures, but time is running short.
This state budget deficit is not a new problem. Many of you have surely seen the commercial showing the budget "can" being kicked down the road. Over the past four years, our state has seen successive shortfalls. This year is no different, other than new programs requiring funding have been added to the request list, such as a teacher pay raise.
Our state budget system needs modernization for the best interest of all Oklahomans. This past week, the Oklahoma Institute for Child Advocacy joined with other nonprofit organizations to call for a better state budget policy.
The Save Our State [SOS] coalition, made up of nearly two dozen advocacy groups, recognized the time is now to show policymakers we are united in calling for long-term answers. No collaborative effort between organizations has ever presented a united policy such as this, but we are facing desperate times unlike any in the past.
SOS worked with state budget experts to develop a three-year blueprint for action which calls for the following five principles:
1] Address the overall budget situation, not just the public education crisis. Our plan ensures there will be enough revenue to avert further budget cuts and invest in key priorities.
2] Acknowledge revenue is part of the problem and modernize the tax system while ending special interest giveaways.
3] Look beyond the current crisis and propose realistic solutions to structural budget problems plaguing the state.
4] Propose reforms to budgeting practices that will increase legislative oversight and reduce the potential for future revenue failures.
5] Model the transparency we believe our elected officials should adopt.
The result of this work is a plan that fills the current budget hole and transparently lays out how to provide quality services Oklahomans deserve at adequately funded levels. You can find the entire 15-page "Budget Blueprint" at saveourstateok.org/.
Key points in the SOS blueprint include:
– Ending special interest tax giveaways
– Stopping out-of-state tax shelters
– Repealing unnecessary sales tax exemptions for luxury purchases
– Modernizing a gas tax that has not been adjusted for inflation in three decades
– Restoring unnecessary tax breaks for the oil and gas industry
– Restoring a 6% rate for extremely high income earners
There are many ways to stabilize the budget and fund core government services. Some favor an increased cigarette tax and fuel tax. Others want a higher gross production tax. Some want to see an elimination of deductions or tax credits. SOS has provided one compilation of ideas as citizens of the state to help spur the discussion.
What we cannot afford is political gridlock among our elected officials. Now is the time for compromise and a willingness to give a little on policy to gain long-term budget stability for Oklahoma.
– Joe Dorman is CEO of the Oklahoma Institute for Child Advocacy