BY DAVID PERRYMAN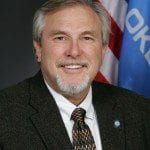 FFA and 4-H provides our youth with an abundance of leadership opportunities. One of the most enduring benefits I received through these organizations was training in public speaking and the opportunity to participate in speech contests, including those that are even today sponsored by the Oklahoma Farmers Union/AFR.
While the themes of my speeches varied, they always centered on agriculture and agrarian life. One focus was the impact of rural electrification on Oklahoma. The REC, where my dad served on the board, was the source of materials that made the writing of the speech easy.
Rural life changed dramatically when President Roosevelt's administration initiated the Rural Electrification Administration which gave farmers and ranchers the means to collectively and cooperatively extend power to sparsely populated areas where not otherwise economically feasible.
However, my speech also addressed the economic impact of rural electric cooperatives on the communities and towns in the trade area served by the co-ops. According to REC materials, one electric cooperative illustrated its impact on the local community by paying its employees with silver dollars.
Those silver dollars rotated through the community up to seven times and sent a clear signal the benefit of co-ops goes far beyond improving the quality of rural life. Their local payrolls impact businesses and touch every single citizen in some way.
Even those few men, women or children who did not ultimately receive silver dollars through commerce were benefited through the improved water, sewer and road infrastructure facilitated by increased sales tax revenue.
Fast forward to 2014. This week we are reminded that Nov. 29 is Small Business Saturday. National advertisers will attempt to entice you and your dollars to "beat the system" on Black Friday.
However, the only thing you are likely to "beat" is your local community, its infrastructure and those merchants who are in your hometown for you and your schools day in and day out, all year long.
This holiday season, to the extent possible, shop locally. Small business is there for you; will you be there for them?
Another issue of similar impact is the Marketplace Fairness Act, sometimes referred to as the Main Street Fairness or simply eFairness.
With the understanding that all items purchased through catalogue sales, Internet merchants as well as local businesses are subject to Oklahoma sales and/or use taxes. Many Internet merchants side-step the responsibility of collecting and/or remitting those taxes to the state.
Internet merchants operate nationally and create the same sales tax collection issue in all 50 states. Consequently, this issue needs to be resolved on the federal level and the status quo continues to hurt local retailers, including those on Main Street in your hometown. It also hinders the ability of your county, city, fire department and senior nutrition center to provide services and build or repair infrastructure.
But, despite prior passage by the U.S. Senate and over decade of "congressional consideration," the speaker of the U.S. House of Representatives recently stated that the Marketplace Fairness Act "needs further review."
This is not a new tax – it simply requires all merchants, wherever located, to play by the same rules.
– David Perryman, a Chickasha Democrat, represents District 56 in the Oklahoma House of Representatives