A Veto Referendum Could Delay Or Reverse Funding Mechanism For Teacher Pay
BY JOE DORMAN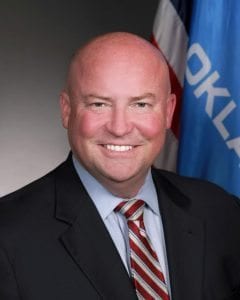 I am usually not the gloom-and-doom kind of person, but I am worried that Oklahoma is about to sleepwalk into a budget-related nightmare that policy-makers never anticipated. If you are thinking – "we are already living through that nightmare!" – you may have a point. However, our state Constitution leaves us uniquely exposed to political maneuvers that could cripple our budget and possibly even reverse the recently passed teacher and state employee pay raises.
Those raises, along with additional funding for education, are sorely needed. The Legislature passed a historic $428.5 million revenue package to fund them, which is a good thing. Teachers may successfully advocate for even more revenue for education, which would be even better.
However, it is a real possibility that all of this could be undone by way of a "veto referendum," leaving our state budget in absolute ruins.
Oklahoma is one of 21 states which allows a veto referendum with a vote of the people. This right is given to the people to challenge any issue passed by the Legislature and signed into law if enough voters disagree with a policy.
To get such a veto referendum on the ballot, someone must collect 5% of the amount of votes cast in the previous election for governor. In this case, that is 41,242 signatures. If those signatures are collected, and assuming they are valid and survive any legal challenges, the secretary of state and governor are then compelled to certify the referendum and place it on a ballot for the people to vote on.
Furthermore, once certified, the policy in question is then placed on hold. So, if someone were to collect 41,242 signatures from voters opposed to the newly implemented tax increases in House Bill 1010xx, those new taxes would not be collected, teacher and state employee raises would be put on hold until a vote of the people, as would other additional funding for textbooks and classrooms.
As I said, this would be a nightmare, and most nightmares don't come true. However, this one may. Oklahoma Taxpayers Unite, an anti-tax group in which former U.S. Sen. Tom Coburn is a member, has said it will pursue a signature gathering effort to put a veto referendum on the ballot.
To give our teachers a pay raise and then to delay or even reverse that victory would be devastating to a profession that is already on the ropes in Oklahoma. I hope voters will keep this in mind before putting their names to any kind of anti-tax petition.
– Former state Rep. Joe Dorman is CEO of the Oklahoma Institute for Child Advocacy