BY DAVID PERRYMAN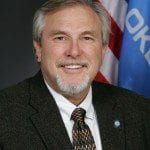 Captured images and phrases often become iconic trademarks in industry and merchandising. One such image was that of Nipper the Dog sitting next to a Victrola listening to "His Master's Voice." Victor Talking Machine Company also originated and, beginning in 1925, owned the rights to the phrase, "The Gift that Keeps on Giving," for use in marketing its records and phonographs.
As Americans work toward the April 15 personal tax filing date, much effort is expended to capture deductions, tax credits and subsidies thereby decreasing personal income tax liability so that less money is sent to Uncle Sam. While the tax code is complex, those of us who own businesses or work for businesses that pay all or part of our health insurance premiums, are on the receiving end of a "Gift that Keeps on Giving."
Unfortunately, Oklahoma refuses to establish an Oklahoma marketplace for private insurance companies to sell Affordable Health Care policies putting low-income working Oklahomans whose employers do not provide health insurance on the giving end of a gift that keeps on taking.
The plight of those low-income Oklahoma employees who have no work related health insurance is in the balance because Oklahoma's attorney general is seeking to prevent them from receiving the same federal tax credit those residents of states that did establish an insurance marketplace receive.
Since they are employed, they earn too much to qualify for Medicaid and more than 126,000 of them responsibly signed up to purchase health insurance under the Affordable Care Act. The average annual tax credit to defray the cost is $2,472. However, the Attorney General wants to take away that tax credit as stated in oral arguments held recently before the Supreme Court.
Amazingly, while this red state is attempting to block a federal tax credit that averages $2,500 per year to those working Oklahomans, other Oklahomans whose insurance is provided by their employers enjoy tax-free health insurance benefits that often are as high as $12,000 or more, per year.
For instance, when an employer provides an employee with health insurance, 100% of the cost paid by the employer is a tax-free benefit and a business expense write off to the employer. Couple that with the normal Section 125 Flexible Benefits Plan allowing thousands more dollars of tax-exempt income to be set aside to pay deductibles and co-pays, and a $206 health insurance tax credit given to the working poor to decrease their after-tax out of pocket expense for health insurance pales in comparison.
Call it a deduction or a subsidy – it is tax-free income that is truly a gift that keeps on giving.
The subsidy given to employees who have employer provided health care was $248 billion in 2013, according to an article by Washington correspondent Chris Casteel in the Mar. 2 Oklahoman. Casteel quoted the non-partisan Congressional Budget Office: "The income exclusion for employer-sponsored health insurance is the single largest tax expenditure in the individual income tax code," and that does not even count the foregone employee tax on the benefit.
As Oklahoma's low-wage workers are signing up for Affordable Care Act policies in numbers that are greater than projected, Mike Rhodes, a deputy commissioner with the Oklahoma Insurance Department, stated that, "The public is catching on; they understand the program."
Unfortunately, if successful, the Oklahoma attorney general's lawsuit to unravel the Affordable Care Act will take the tax credits from those struggling Oklahomans who are least able to afford the loss, yet strive to be personally responsible for their health care.
All the while, those who receive tax-free health insurance benefits through their jobs continue to receive the gift that keeps on giving.
– David Perryman, a Chickasha Democrat, represents District 56 in the Oklahoma House of Representatives