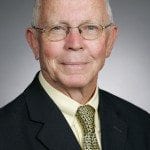 BY ED CANNADAY
If nothing is done, come January of next year another income tax cut will take effect. While many hoorah the general theory of tax cuts, most are unable to determine who this tax cut really benefits and to what degree.
The pending tax cut, for example, will not provide relief to the most vulnerable Oklahomans, those most in need of public services and financial assistance. According to the Institute on Taxation and Economic Policy, the richest top 1% of Oklahomans, with income over $399,000, will receive nearly a third of the benefits from the tax cut. The top 20% of Oklahomans will receive 73% of the share of benefits.
The tax cut is explicitly regressive in that it benefits the wealthiest 20% of Oklahomans at the expense of everybody else.
Top Republican leaders, to include Gov. Mary Fallin and Speaker of the House Kris Steele, have voiced support for this trigger to take effect, despite the current economic crisis that continues to plague our state.
The tax cut was intended to only take effect if our state faced a 4% increase in revenue, but the intentions at the time and common sense both banked on an actual increase in revenue from the date the measure was adopted in 2004 – whereas our general revenue is now around 16% less than it was in those days.
Those pushing for the trigger to take effect care less about our state's economic wellbeing and more about appeasing a small faction of our population.
Despite the chants saying otherwise, the previous income tax cuts have been woefully ineffective at stimulating economic growth, and have contributed to our current revenue crisis. Unless legislation is enacted to stop it, an automatic trigger will reduce the top rate to 5.25% in 2012, thereby reducing state revenue another $120 million and seriously damaging economic recovery.
Our state has endured brutal cuts on vital public services: school districts have laid off teachers, eliminated programs, and cut staff; the Office of Juvenile Affairs was forced to cut its successful gang and juvenile crime prevention programs; and the Department of Mental Health and Substance Abuse Services closed centers and removed beds provided for adults with substance abuse issues and children with mental health problems.
At this crucial time we need to protect and preserve programs that have an enormous impact on social welfare and economic sustainability. It is unjust to demand that the individuals most in need of help sacrifice their welfare and services to benefit 1% of our population.
– Ed Cannaday, a Porum, OK Democrat, represents District 15 in the Oklahoma House of Representatives