BY RICHARD L. FRICKER
The surreal dance that has evolved between Occupy Tulsa and the Tulsa Police Department continued Wednesday night as officers once again took control of downtown Centennial Park, arresting 13 demonstrators and bringing total arrests to 23.
The Wednesday night arrests were much more low-key and non-violent than the police action orchestrated the previous night by Deputy Chief Daryl Webster.
Under Webster's command an estimated 75 to 100 officers descended from the shadows surrounding the park at about 1:30 a.m. As Webster looked on, his officers pepper sprayed members of the Occupy group who had previously agreed to be arrested in a gesture of non-violent civil disobedience.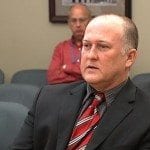 Webster, surrounded by a cadre of sergeants, had addressed the crowd of about 30 people at about 11:15 p.m., suggesting they remove their tents and return at 5 a.m. He cited city ordinances that the park was closed between 11 p.m. and 5 a.m. He also noted there was no law against remaining on the sidewalk between those hours.
Occupy Tulsa, like other Occupy movements around the country, did not accept the compromise as a viable solution. The Occupy position is that the park belongs to the "people."
Webster was clearly unused to – or unprepared for – the Occupy position, or their method of repeating each sentence during an address, known as the "People's Public Address System." Following the encounter Webster and his sergeants scurried back to their vehicles and departed.
During the ensuing two hours Occupiers took turns with speeches, songs and admonitions that the police were not the enemy. Group leaders repeatedly made statements on non-violence.
The assembled press corps did what they always do in waiting situations – told war stories about previous assignments and reporters they knew or had known.
As time drifted into the early morning reporters began to speculate as to the delay in the forthcoming police action. It became the general agreement that TPD was waiting for the media coverage to dissipate. That was not to be the case.
Shortly after 1 a.m. marked police units began blocking intersections as Sheriff's vans arrived. Behind the park other marked units began to arrive; the actual number of units has been estimated at about 25.
As the officers established a perimeter around the park nine demonstrators sat on the forbidden park grass locked arm-in-arm, awaiting arrest. Once in position, a group of officers approached the nine demonstrators and began using pepper spray.
The nine were then hauled into the street and taken to awaiting sheriff department vans.
The entire operation had a rather surreal atmosphere as officers emerged from the shadows around the park, dressed in standard dark blue uniforms. Initially they walked in loosely formed columns, spreading out into a perimeter formation.
In the night, with low lighting, dark uniforms and officers staring expressionless as their fellows sprayed demonstrators and hauled them to waiting vans brought to mind images of early science fiction movies. The entire scene was not unlike the entranced human minions of an evil genius seeking to take over an innocent city.
Webster later justified the actions carried out under his command as the least non-violent method of ensuring compliance with police orders. Occupy Tulsa claims this was a direct violation of an agreement they had personally made with Webster during a face-to-face meeting Tuesday afternoon.
When confronted by Occupy Tulsa representative Stephanie Lewis, Webster declined to comment as to whether or not such an agreement had been reached.
Lewis shouted at Webster, with camera rolling, "You're a liar." Webster did not respond either to Lewis' contention that an agreement had been reached or whether or not he had been lying.
Lewis has steadfastly said the group used procedures explained to them on Oct. 6 by TPD Sgt. Mark Wollmershauser during an organizational meeting TPD had been invited to join. Regardless of what agreements may or may not have been in place, the City of Tulsa continues to defend Webster.
The demonstrators were clearly shaken by the use of spray. They taunted the officer with exclamations such as "the whole world's watching," "who protects us from you," "Shame! Shame!"
Demonstrators also held up laptops and iPads with webcams. They told the stone-faced officers the images were being streamed around the world, which they were. One demonstrator looked at a particular officer, saying, "What are you going to tell your children when they learn the truth about what you're doing here tonight."
None of the officers showed any particular emotion. It was clear this was a group not used to being confronted without being able to respond, and clearly not used to being confronted en masse.
One officer did change expression when a news photographer remarked to a reporter, "If my major had asked me to do something like this, I would have resigned my commission."
At times, the police were confronted by men claiming to be Iraq and Afghanistan war veterans: "I fought for your freedoms, why won't you fight for mine?"
The entire arrest procedure last about an hour. Webster met with the press briefly. When asked what he felt had been accomplished, he responded by asking if the reporter had credentials. Another reporter whom he apparently knew on sight then asked the same question – he never responded but kept talking about curfew violations and tent permits.
No one ever believed the arrests, or the high number of officers involved to arrest nine people, had anything to do with curfew or permits.
The arrest came following a day of mixed signals and what Occupy Tulsa described as deliberate deception. As Dep. Chief Webster told reporters the officers were only enforcing curfew laws and various other city regulations regarding camping in public parks, Occupy Tulsa was telling a very different story.
Earlier in the day Lewis and Lee met with Webster and his staff to discuss the ongoing encampment that was established earlier in the week. According to Lee the meeting lasted from 11 a.m. until shortly after noon.
The meeting was held at an off-downtown police station instead of police headquarters, a few blocks from the campsite. "When we got back from the meeting we found that electricity to the park had been cut off and the area wifi taken down," Lewis told reporters.
The power was shut off by a different city department using a private security service which also attempted to remove the six or seven tents in the park.
Inquiries to City Hall and Mayor Dewey Bartlett's office were passed on to other officials who ultimately claimed to have no knowledge of the power outage, Lewis said. Bartlett's office later claimed that an agreement had been reached wherein the campers would move to a park slightly further from downtown.
This "agreement" came as a complete surprise to Lewis and Lee, who claim they were never allowed contact with Bartlett or his direct office staff. Nor, they say, had they been able to find anyone within their organization who had had contact with Bartlett's office.
Bartlett's office also claimed the mayor was too busy hosting former British Prime Minister Tony Blair to worry about the encamped Occupy movement. The question is, if Bartlett was too busy hosting Blair, when did he find time to negotiate a change of location.
In the end no one at City Hall took responsibility. The police department continues to defend Webster's actions.
By mid-day the nine arrested demonstrators had made bail. They returned to the park and a new round of confrontations was set to begin.
DAY 2
During the Webster confrontation, the Occupy component had made it clear they would continue their daytime occupation of the park. They also made it clear they would continue civil disobedience regarding being made to leave the park at 11 p.m.
A cold rain began around mid-day Wednesday. The lines of communication between City Hall and Occupy Tulsa had remained silent. Eventually a letter from the city attorney reached Occupy Tulsa, saying that if those to be arrested would stand upright there would be no use of spray as had happened under Webster.
With a hard rain falling may of the demonstrators felt it better to break down for the evening. But if resisters wanted to remain, the group would remain for moral support. As this decision was being made a group of 16 arrived from Occupy Oklahoma City [Occupy OKC].
The decision was made to await the police in the rain and 40-degree weather.
Unlike the Webster operation, the police arrived early, with their mobile command post. The number of marked patrol units had been greatly decreased.
This time, there were to be 13 civil obedience volunteers. As they were to find out, there was to be no long wait to be arrested.
The police blocked the intersections at 11 p.m. and made their announcement to vacate. Shortly thereafter about 40 officers, according to a policeman, took control of the park – but not in the military fashion as the previous encounter.
The 13 Occupy volunteers stood with their backs to the officers facing the crowd assembled on the sidewalk.
The officers for their part looked much less stone-faced. They were most assuredly professional, but the tension was gone.
Most the procedure appeared to be handled by sergeants with a couple of officers in the background. If Webster was present, he was keeping a very low profile.
One by one, the 13 demonstrators were placed in zip plastic cuffs and walked to the waiting van. The crowd had the same cheers and jeers for police, with the caveat that Occupy understood they were only doing their job.
The crowd did make it clear they see the police as instruments of an oppressive political system that has been corrupted by corporate America. The officers showed no emotion and did not respond.
The entire event was over before midnight. A police spokesman fielded questions from the press while maintaining the theme of curfew and permits. And as Webster attempted to do, provide assurance that the police were there to respect and protect everyone's right to free speech and freedom of assembly.
Whether he was able to convince anyone remains to be seen.
The spokesman did note that the nightly arrests at the park were an expense to the taxpayer. He was not asked, nor did he address: If it is so expensive to arrest 23 people in less that 24 hours when all they want to do is sleep in a tent in 40-degree, rainy weather, why not?
– Richard L. Fricker lives in Tulsa, OK and is a regular contributor to The Oklahoma Observer, providing both essay and video commentary. His latest book, Martian Llama Racing Explained, is available at http://www.richardfricker.com.