BY DAVID PERRYMAN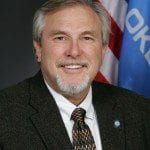 The classic 1948 John Huston film Treasure of the Sierra Madre stands at No. 30 on the American Film Institute's all-time best movie list. It is an iconic adaption of B. Travens' novel of the same name. True to Travens' form, the plot examines "oppressed and exploited" characters whose life experiences have left them with few options.
Perhaps the most enduring line from the film came when Fred Dobbs [played by Humphrey Bogart] had been confronted by Gold Hat [played by Alfonso Bedoya] and his Mexican outlaw gang who were pretending to be Federales. When Dobbs questioned the gang's authority and demanded to see their badges, Gold Hat's famous response was, "Badges? We ain't got no badges. We don't need no badges! I don't have to show you any stinkin' badges!"
Despite misquotes and paraphrases over the past 71 years, the message remains identifiable, constant and clear.
A couple of bills currently pending in the Oklahoma Legislature bring the quote home. HB 2597 and SB 12 have been drafted to repeal the law that requires permits and, more importantly, training for handgun possession.
When questioned, proponents of the bills claim that the right of all citizens of the United States is a constitutional right embodied in the Bill of Rights as the Second Amendment to the Constitution. They claim that any conditions imposed on citizens are an infringement of that right.
Despite that position, most Oklahomans believe that permits and training are necessary. In fact, a poll of Oklahomans taken in March 2018 finds that Oklahomans overwhelmingly support the state's current training and permitting laws.
The poll conducted by Survey USA shows that 89% of Oklahomans want our current firearm training and permitting and background check laws to continue in effect while only 8% want to remove those requirements. When asked whether the law should be changed to allow persons without permits to carry weapons in public, 81% said "No," while only 15% said "Yes."
The survey also asked if the respondent would be more likely or less likely to vote for a legislative candidate who supported removing the state's gun permit requirement. In response, 68% said that they would be less likely to vote for that candidate while only 12% said that they would be more likely to vote for a candidate that supported eliminating the requirement of a permit for carrying a gun in public places.
Despite these numbers, when HB 2597 was presented on the House floor on Feb. 13, 70 of the 76 Republican members of the Oklahoma House of Representatives voted to allow guns to be carried in public by individuals who have had no background check, no training and no permits.
The dichotomy becomes even more remarkable when a review of the website of the National Rifle Association clearly promotes firearm training, to "Take charge of your family's safety and get the basic knowledge and skills to safely handle or store firearms and ammunition in the home" and to instill the "techniques needed to develop a defensive mindset" with a goal of developing "the knowledge, skills and attitude necessary to carry and use a concealed pistol ethically, responsibly and with confidence."
So why would a legislator totally disregard the wishes of an overwhelming super majority of Oklahoma citizens? The answer is simple: the 8% who want to remove training and permitting requirements and the 12% who would be more likely to vote for a candidate who supported eliminating those requirements represent the base of those 70 members. Even though the base is relatively small, they are reliable and with a re-election in the balance, more often than not, they are the difference between winning and losing.
Until voters truly become concerned about firearm safety and proper training, the echo through the Capitol Rotunda will be, "Training? We don't need no stinkin' training."
– Chickasha Democrat David Perryman represents District 56 in the Oklahoma House and serves as minority floor leader