BY DAVID PERRYMAN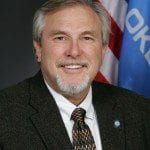 Holistic Medicine is characterized by the treatment of the whole person, taking into account mental and social factors, rather than just the physical symptoms of a disease. Likewise, Holistic Philosophy comprehends that a person's wholeness can be achieved only by recognizing its parts as intimately interconnected.
Most Oklahoma teachers will tell you that being 50th in the nation in compensation is only part of the problem. The fact that every day teachers see thousands of Oklahoma students come to school hungry, sick and often dealing with emotionally burdensome home situations make educators in the Sooner state weary and worn and exponentially increases their burden.
Without exception, teachers thrive on seeing students succeed. The reward of watching a child gain knowledge or a new skill makes hours of work worthwhile. Unfortunately, demographics beyond the control of public education inhibit the ability of teachers to reach students and the ability of students to succeed.
Fortunately, the plan unveiled by the teachers last week appears to be designed to address Oklahoma's demographic deficiencies that have become increasingly harmful over the past ten years.
While detractors have portrayed the demands made in the plan as purely a teacher pay proposal, the teachers also asked for increased pay for non-certified support personnel who serve a vital purpose in public education across Oklahoma. Support staff who also have served school districts without salary increases for in excess of 10 years often fill the gap, help distraught children and remove some of the day to day stress experienced by both teachers and students.
Another overlooked part of the demand made by teachers is that the House leadership that is blocking the COLA bill that passed out of committee earlier this month allows it to be heard on the floor of the Oklahoma House. Allowing retirees to receive a Cost of Living Adjustment would cost Oklahoma's budget absolutely nothing and, while it would directly benefit thousands of existing retirees, it would also signal current employees that their future may not be quite so bleak.
If the state of Oklahoma truly wants to guarantee a bright future for its citizens, it must support and apply this holistic approach to education. Paraphrased, Samuel Clemens famously said, "Closing a school requires the construction of a prison."
The plan of the OEA furthers that concept when it incorporates two additional provisions. First, it requests that the deep cuts to non-payroll educational appropriations be reversed so that, among other things, teachers will not be forced to purchase student supplies out of their already meager pay and assist with the leveraging of federal funding.
Second, the plan calls for an increase in health care funding. While some might not see health care funding as related to educational outcomes, teachers do. On a daily basis, they deal with students who are the children of families who are enduring mental illnesses and physical conditions that are normally both chronic and untreated.
In summary, perhaps no members of our citizenry better understand that a holistic approach to education is essential to educational outcomes. With clarity, the plan proposed by teachers last week incorporates that approach.
Oklahoma would be well served if legislators approve the plan in its entirety, so long as the revenue plan to fund the plan is based on a reasonable and adequate increase in the gross production tax on oil and gas and does not place a greater burden of taxation on those who are least able to afford it.
– David Perryman, a Chickasha Democrat, represents District 56 in the Oklahoma House