BY SHARON MARTIN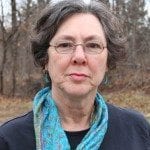 I can live without oil. My lifestyle would change, but I would live. I can't live without water. This is why I decided to join with Tar Sands Blockade Oklahoma in the protest against tar sand extraction in general and against the Keystone XL pipeline in particular.
There are two sides to every issue, and to come down squarely on one side or the other means you are ignoring someone's needs. The pipeliners are working. Landowners are getting checks in the mail. The Chinese will be filling up their tanks.
On the other side, First Nations people in the extraction area are dying of cancer, 100 of them in one town of 1,200. And those who rely on tourism and on clear fishing streams in Canada's pristine wilderness are out of luck.
Two sides. Winners and losers. And still, for me, it comes down to the water.
As a small farmer and gardener, the drought in my state weighs heavily. Right now, I still have water in my well. What happens when my well is tainted? What happens if it goes dry? It takes three barrels of water to produce one barrel of bitumen oil. Is this a fair trade? And what are we trading for?
Most of the oil produced from the tar sands will be shipped overseas out of Houston. Our oil prices won't go down, but the amount of carbon in the atmosphere will go up. Who's winning here?
Many of the pipeline jobs are temporary. A few are local, but there are a lot of Wisconsin workers in my state right now. We have nothing against them. Hotels, RV parks, and restaurants are booming. Is this enough?
Two sides, but we can't live without water. For me, it comes down to the water. What are we thinking, dirty air and dirty water for temporary jobs? It doesn't seem like a fair trade to me.
We urge you to stand firm against the Keystone XL pipeline, stand firm for the American people. Every last one of us relies on clean water.
– Sharon Martin lives in Oilton, OK and is a regular contributor to The Oklahoma Observer