BY SHARON MARTIN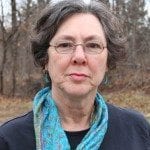 An economist in a recent Market Watch interview said that during hard economic times, politics gets meaner. Two recent articles, one by David French and another by Brandon Dutcher, illustrate this point.
French, in an essay called "Our Depraved Poor," suggested there was only one way to lift folks out of poverty: "…people who work hard, finish their education, get married, and stay married are rarely — very rarely — poor."
Right next to his statement was a paid advertisement for a Christian singles site.
Financial distress is frequently cited as a factor in divorce. Which comes first, divorce or hard times?
Several studies suggest that states with the highest rates of college graduates have the lowest divorce rates. We know college graduates earn more. The answer to poverty and divorce, then, seems to be education.
Brandon Dutcher quoted liberally from French's opinion in his Sept. 1 article in the Drumright Gusher, saying that "our social problems are increasingly connected to the depravity of the poor."
Dutcher has made it clear in previous articles that he does not support public schools, but there is plenty of evidence that supports education as the No. 1 weapon against poverty.
In an attempt to connect smoking and poverty, Dutcher borrowed numbers from a Tulsa World article – "$304,000 in food stamp purchases at tobacco retailers."
Grocery stores are tobacco retailers. Grocery stores are where most food stamps are used. Food stamps cannot be used to buy cigarettes.
It's too bad that some food stamp recipients smoke. Smokers at all economic levels cost us, both in increased medical costs and higher insurance premiums. But it isn't fair to blame the poor for their habits and give the wealthy a pass.
French argues that food stamps and Medicare don't put a dent in poverty, adding that "hundreds of billions of dollars of transfer payments have not budged the poverty rate." What transfer payments – bailouts for bankers, subsidies for corn growers, or those ballyhooed tax breaks for corporate jet owners?
There are people who believe the poor deserve what they get. Some of them even profess to be Christians. Jesus was poor. So were his apostles. Wealth doesn't make one holy.
It's time to stop the poor bashing. It took two wars, generations of unequal opportunity, and decades of corporate welfare to create the gulf between rich and poor in this country.
It will take empathy, effort, education, and time to fix what's been broken. Being mean won't get the job done.
– Sharon Martin lives in Oilton, OK and is a regular contributor to The Oklahoma Observer
ILLUSTRATION: Bill Day/Cagle Cartoons