BY RICHARD L. FRICKER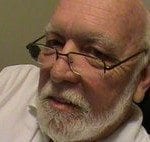 It was very strange to hear about the death of Carlos Fuentes. Frankly, I hadn't read anything of his work in years. But there must have been some comfort just knowing he was there.
I actually met him once, very briefly at a lecture he was giving in Fort Worth.
Funny when someone of his stature dies – for example Jacques Brel – there's seems to be a void in a place you didn't realize was in you.
And there are the nagging questions: What do we do now? Who will take his place?
But we move forward with the knowledge that he was once among us and the hope that someone will emerge to take up the holy work.
Adios Señor, sueños con los angeltos, gracias por todo.
– Richard L. Fricker lives in Tulsa, OK and is a regular contributor to The Oklahoma Observer. His latest book, The Last Day of the War, is available at https://www.createspace.com/3804081.