BY SHARON MARTIN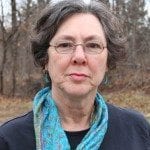 The Super Committee can't come to an agreement, but what did we expect? Congress can't even agree to improve the nutrition requirements for school lunches, so we shouldn't expect cooperation on the economy.
We've managed to stave off another Great Depression, just. And still, men with no clue about the economic plight of millions of Americans propose fixes that won't fix anything.
Their answer to the uninsured? Cut government spending. Their answer to the unemployed? Cut government jobs and pass free trade agreements. Their answers to the economic crisis caused by deregulation? Cut taxes and call pizza a vegetable.
These were the best we could elect?
The American people have to make tough choices every day. Do our legislators understand? Which of them has ever had to choose between paying the rent and paying the electric bill?
Do they understand the worker who has to choose between going to work or staying home with a sick child? I bet they'd say, "I'd stay with my child, of course." But what if it meant they'd be fired?
The economy is on just about everyone's minds these days. Those who speak tend to fall into one of two camps.
One side says, "I'm hurting and I'm angry."
The other side shouts, "It's your own fault, bozo."
What's missing is empathy, an understanding of what life is like across the aisle or across the street. If you take it for granted that the bills are paid and your house will be warm as you sit down for supper, how do you wrap your mind around the choices that some citizens have to make? Evidently many of our representatives and their supporters can't.
Companies cut jobs. They lay off skilled workers and replace them with those who will work for less. They send jobs overseas.
They replace pensions with do-it-yourself plans that look good until the stock market goes south. And this is just the way it is for those lucky enough to have a corporate job that has a retirement plan.
What about those who live pay check to pay check? What about the self-employed and the small business owners who may or may not have health insurance? What choices do they have to make, and who is listening?
We could try to call our lawmakers, let them know what it's like out here, but it doesn't appear that anyone with a lick of sense, or empathy, is at home.
– Sharon Martin lives in Oilton, OK and is a regular contributor to The Oklahoma Observer