BY DAVID PERRYMAN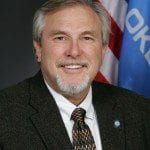 Raising cattle provided a nearly endless supply of "organic fertilizer" for our garden and flower beds. Gathering the fertilizer from our corrals, pastures and pens was relatively labor intensive but it paid huge dividends.
The spring I got my license to drive our old 1951 Chevy pickup to town, I scooped and tossed cow manure onto gardens and flowerbeds of anyone who had $5 to pay for a load. At that time, the only thing that "scoop and toss" meant to me was scooping enough manure to fill the pickup bed and tossing it on the soil of enough people that I didn't have to worry about gas money.
Today, at the Oklahoma State Capitol, after a dozen years of irresponsible tax cuts and tax credit giveaways, "Scoop and Toss" has a whole new meaning.
Oklahoma's Constitution requires a balanced budget. Plain and simple, that means we cannot have deficit spending. If the state has needs that are greater than its anticipated revenue, the state has a budget hole. Oklahoma's budget hole for the fiscal year beginning on July 1, 2016 is estimated to be more than $1.3 billion.
Normally, when ill-advised tax cuts put a state in a budget hole, there would be an attempt to roll back the tax cuts. When there is no political courage to admit error and reinstate the taxes on campaign donors, creative politicians manipulate debt, issue bonds and borrow money.
"Truth and Integrity in State Budgeting," a 2015 report of the Volker Alliance, reports that poor policy decisions and the practice of passing current government costs to future generations hamstrings future spending options and weakens a state's fiscal capacity to support the municipalities, counties and school districts that depend on its aid.
Unrestrained corporate tax credits and incentives had robbed the state of its ability to pay teachers a fair wage long before the price of oil plummeted, and the lack of truth and integrity in state budgeting did not end there. This spring without warning, DHS victimized thousands of Oklahoma's vulnerable aged, blind and disabled population by suspending the last 25% of their monthly checks until the next budget year. That is a lack of truth and integrity.
Likewise, over the past three years, the Legislature cobbled together budgets by using one-time fees swept from state agencies to pay for recurring expenses. This practice is an absolute violation of the principles illustrated in Truth and Integrity in State Budgeting.
Rampant corporate welfare has rendered the state absolutely helpless to provide citizens with fundamental services and to aid counties, schools and cities. Roads and bridges are deteriorating beyond repair. Schools are crippled. Fire protection is lacking and our health care system is on the verge of collapse.
Now on the table is a plan to borrow between $150 million and $300 million to patch potholes and mow rights of way and other recurring ODOT operational expenses this year and next year. Bonding a budget hole and leaving the debt plus interest to be paid by our children is never a good idea.
"Scoop and Toss" is a common scheme that has been used in places like Puerto Rico for years. Each time the debt is extended new fees are added in.
Borrowing money for recurring expenses is addictive and unwise. What I scooped and tossed more than 40 years ago had an odor but it did not stink nearly as bad as the current scheme to "borrow our way out of debt."
– David Perryman, a Chickasha Democrat, represents District 56 in the Oklahoma House