BY GARY EDMONDSON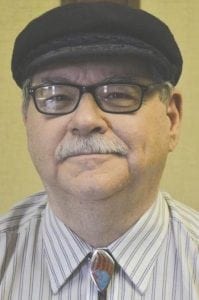 Every U.S. representative along the Mexican border opposes a wall. Most of the senators feel the same way. Nogales, AZ, residents protest razor wire topping their border fence. The Republican mayor of El Paso – "This is ridiculous" – blasts the presidential lie that his city's lower crime rate is related to its border fence. The governor of New Mexico has pulled her state's National Guard off the border.
Our country faces a crisis on our southern border, but not the lie promoted by our Racist-in-Chief. The border crisis is much more serious.
On Feb. 7, Jacob Ortiz reported for The Daily Kos: "Nearly 200 days past a federal judge's deadline, children stolen from families at the southern border under the barbaric 'zero tolerance' policy remain in U.S. custody. In December, the number of detained unaccompanied minors, or children who came to the U.S. by themselves, hit a wretched 15,000 – the most ever."
Yet, family-values Republicans remain silent – or endorse these atrocities.
Small children get separated from their parents, put into tent cities, shipped across the country when a facility is deemed unlivable.
Small children in concentration camps not bad enough?
Angelina Chapin of Huffington Post reported early this month that "officials from the Trump Administration said it would require too much effort to reunite the thousands of families it separated before implementing its 'zero-tolerance' policy in April."
Citing the December report, "the inspector general of the Department of Health and Human Services released a report stating that 'thousands' more immigrant families had been separated than the government had previously disclosed … HHS officials said they don't know the exact number of children who were taken from their parents before 'zero tolerance' and that finding them would be too much of a 'burden' since there was no formal tracking system in place."
No burdens for the bureaucrats; traumatized terror for children. Instant orphanage.
Small children. Ripped from their parents' arms. Unaccounted for by officials facing no accountability for their indifference. Can it be any worse?
Mary Papenfuss, also of Huffington Post, notes: "Federal immigration officials are not adequately policing contractors running immigrant detention centers where serious problems are often going unreported, according to a report the inspector general for the Department of Homeland Security released …
"In some cases, contractors – including both private businesses and public operations, such as county jails – failed to notify [ICE] of sexual assaults and employee misconduct."
The true crisis along our southern border involves our treatment of defenseless children. What kind of government enacts, defends and perpetuates the terror of ripping small children out of their parents' arms and warehousing them in kiddie concentration camps?
"Border security" is not in crisis. The conscience of this country is.
Forget steel slabs, concrete or metal wire. The moral fiber of our nation needs immediate action.
– Duncan resident Gary Edmondson is chair of the Stephens County Democratic Party