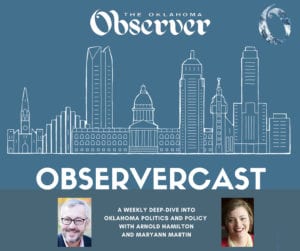 We're excited to announce the debut of Observercast, a weekly deep dive into Oklahoma politics and policy hosted by Arnold Hamilton and MaryAnn Martin.
In Episode 1 – 'This Is Not Normal' – House Democratic Leader Emily Virgin, former Gov. David Walters and former Senate President Pro Tem Cal Hobson discuss Gov. Kevin Stitt's efforts to create a CEO governor and what it portends for a state that historically diffused power as an anti-corruption strategy.
New Observercast episodes will drop every Monday and be available at https://okobserver.org/observercast/ or wherever you get your podcasts.